Spin Play iPad App
Download of the Day: Spin Play For iPad
Thing that is awesome: discovering new music. Thing that is more awesome: discovering new music curated by a top music magazine on your iPad. Spin magazine has just announced its new iPad app, Spin Play, the basic version of which is free. It includes a stream of constantly updated news and reviews. For $2 per month or $8 for the year, users receive over 60 streaming songs and over 30 exclusive performance videos curated by Spin editors.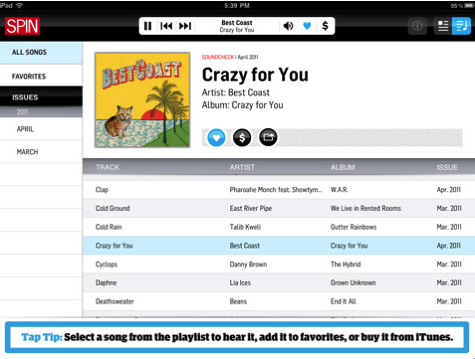 Annual subscribers receive notifications when new issues are available to download through Apple's recently-introduced subscription model. A user's subscription will continue to automatically renew each year at the same price until canceled by the user. And, as the just-released iOS 4.3 for iPad includes AirPlay, app users can take advantage of wireless music streaming, too.
Download Spin Play for free from the App Store.