Spotify Music Apps Now Available
5 Apps to Look For on Spotify's New App Platform
Music junkies, take note: today Spotify introduced an integrated HTML5 app platform to round out the online music experience. Since Spotify partnered with Facebook, their user base has grown to over 10 million listeners who subscribe to friends' playlists and cultivate our own streaming music library. Like an iTunes app, any third party can develop and submit an app for Spotify's approval to be included on the platform.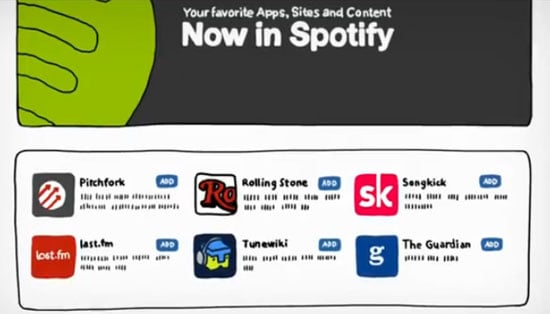 Spotify Apps are available to any user, and the beta version is set to roll out over the next several days. Your list of apps and link to the App Finder will be located on the left sidebar of Spotify. Check out the five apps we can't wait to add to our account, and tell us if you'll add apps to your Spotify experience.
Last.fm — Discover a playlist's worth new favorite tracks within Spotify via a service we already know well.
Songkick — We'll never miss our favorite band's local live performance with this app that keeps users abreast of an artist's tour dates and also makes buying tickets to said event a snap.
Pitchfork — When on the lookout for independent musicians, reference the reviews and editorials of Pitchfork to find great artists flying under the radar.
Follow the break for our two other must-try apps including what no karaoke party can do without.
TuneWiki — Use TuneWiki to follow along with the lyrics to the song we just can't get out of our heads.
MoodAgent — Simplify the playlist-making experience by turning to this app for help on creating a mix based on moods like superhappy, angry, or romantic.