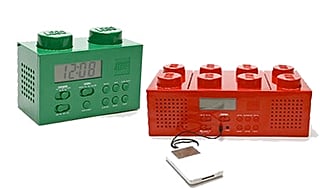 I have to admit, Urban Outfitters is doing a great job featuring fun, geeky gadgets! The latest are two awesome Lego-themed products: the Lego Stereo CD Boombox ($58) and the Lego Stereo Alarm Clock ($38).
The alarm clock features radio or buzzer alarm, AM/FM radio, and volume and tuning wheels on top. The boom box has a CD player and line in to connect your iPod. The cutest part? They're designed to stack — the alarm clock fits right on top of the CD player, just like real Legos.
To see more photos of the Lego Stereo Alarm Clock, just
.