Stan Lee at Comic-Con 2013
Stan Lee Talks Ant-Man and Pesky Comic-Con Lines
Celebrating its first anniversary at Comic-Con this year is Stan Lee's World of Heroes, a YouTube channel for all things fandom. You'll see superheroes having bad days, piano renditions of geek anthems, and the comic-book legend himself ranting about, well, anything he wants — he's Stan Lee. At 90, Stan's going strong on the convention circuit, introducing fans to new projects and reminiscing with them about the characters he created over 50 years ago.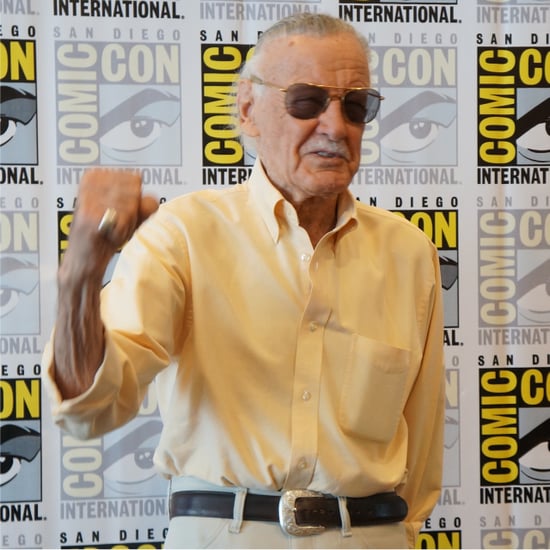 Here, our talk with Stan on the YouTube channel, Comic-Con rants, and the hugely anticipated Ant-Man movie. And yes, the above image is definitely Stan pumping his fist to his "Excelsior!" motto!
POPSUGAR: I love the "Stan's Rants" show on World of Heroes. Do you have a Comic-Con rant?
Stan Lee: I haven't thought about one yet. But, the one thing that drives me crazy, is seeing these poor people waiting on line for hours, either to get in to Comic-Con or to get to what they want to see. I think it's terrible. There should be a better way to accommodate these people who are such great fans, and are treated like sheep. "You stay there for two hours, and eventually your line will get in here." That's not right. Now, that's not a funny rant, but it's a real rant.
PS: Any panels that you would stand in line to see?
SL: I would never wait that long, no. I wouldn't wait that long to see me, and I'm my own biggest fan.
PS: Do you get a chance to see panels you're not a part of at Comic-Con?
SL: I don't see that many panels. If I'm not in a panel, I'm on my way home. I never have time for other panels. I don't even have time to be here. I don't know how I'm talking to you, because I should be somewhere else doing some writing.
PS: What are you working on right now?
SL: I have this company POW Entertainment, which stands for Purveyors of Wonder, and we're doing movies and television shows, live action shows, all sorts of things. In fact, we're working on a number of projects with the Chinese. We have a Chinese hero called The Annihilator. It's a movie for the whole world, and just happens to feature a Chinese star, which we're very excited about. And I'm creating new superheroes for new movies that hopefully will have worldwide attention. Superheroes you've never seen before. I've never seen them before, I'm just dreaming them up.
PS: The script for Ant-Man is complete. Have you given the director, Edgar Wright, any advice on taking this superhero to the big screen?
SL: I had lunch with him [Edgar Wright] about a year or two ago, and he was telling me about the movie. I thought it sounded great — a movie about Ant-Man! Anybody would want to see that! A little guy like that. It never was as good in comics because the artist couldn't draw him small enough. It never occurred to them to draw him standing next to, say, a safety pin, so you'd see how much smaller he was. But they always drew him in a panel, and he looked life-size, you know what I mean? In a movie, they'll be able to get the scenes and the special effects of this little guy that you're afraid you'll step on and crush him. I think the movie will be fantastic.
PS: Which character that you've created were you most surprised by the popularity of?
SL: I think all of them. No, I shouldn't say that. When Spider-Man came along, that was a big one. Then the X-Men. But after the X-Men and Spider-Man did so well, I expected all the others to do well. I wasn't surprised anymore. I'm very lucky because the people who do the movies are so talented and they do such a wonderful job of them. They understand the characters and what makes the characters popular, and having that understanding and the ability to do movies as well as theirs — well, they're doing all the hard work, and I get so much credit. I love that arrangement!
Photo: Kelly Schwarze