Star Wars at Bloomingdale's
Bloomingdale's Goes Geek With Star Wars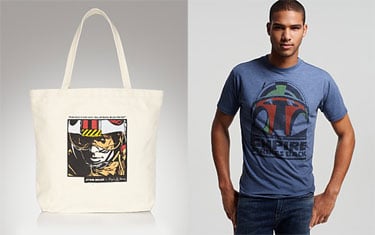 It's not everyday that you willingly drop $42 on a tee (or maybe you do), but I can tell you that my guy would happily hand over the cash to get his hands on one of these new Bloomingdale's Star Wars-branded tees, scarves, ties, and tote bags in honor of the 30th anniversary of Episode V: The Empire Strikes Back.
You guys are pretty jazzed about the upcoming release of Star Wars on Blu-ray (and 3D!), so spread the joy to your lovah by gifting one of these fantastically-vintage items, or hey, snatch one up for yourself. I did. Check out my 10 favorites in the gallery below!
See the rest after the break.