Star Wars Disney Action Figures Pictures
Disney-fied Star Wars Action Figures Coming to Disney Parks
If a trip to a Disney park is included in your Spring break plans, in between Star Tours and It's a Small World, find time to track down the latest Star Wars action figures, exclusive to the amusement parks. Animated Disney characters get into cosplay gear to fill some powerful Star Wars shoes.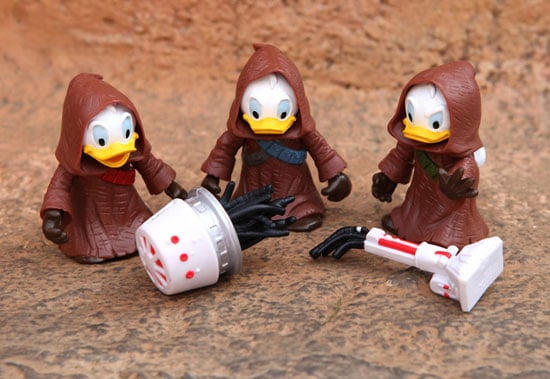 Donald Duck's nephews, Huey, Dewey, and Louie, dress as Tatooine natives Jawas and are even pictured hard at work fixing a busted droid. Not available in stores or online, the figurines are only found at Disneyland and Walt Disney World.
Check out one more peek at the Disney-meets-Star-Wars action figures, this one of Donald Duck himself as a Clone Trooper, after the break.