Star Wars March Madness
Darth Vader Vs. Yoda: Who Will Prevail?
College basketball craziness concludes this evening with a final game between the Louisville Cardinals and Michigan Wolverines — but that's not the only matchup yielding a champion tonight. This Is Madness, a fan-driven competition to determine the true leader of the Star Wars universe has boiled down to two: Master Yoda and Darth Vader.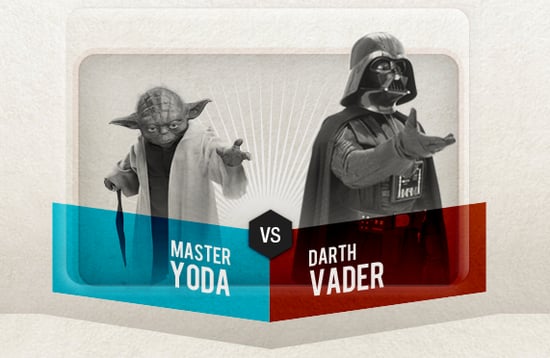 Cast your vote online, and see who the fan favorite will be tonight at 12:01 a.m. ET on ESPNU. Just like the real deal, This Is Madness started off with 32 competitive players on each side and will end with only one winner. Star Wars wonks filled out the geekiest bracket in the galaxy to determine which character reigns supreme.
Let's find out which character is the official fan favorite once and for all! This universe only has room for one victor.
Will it be the wise Jedi master or the vengeful Sith lord? Make your predictions in the comments below, and find out who the most popular Star Wars character is tonight!