Starbucks Free App of the Week 2011-08-16 11:07:29
Starbucks Offers Up Free Apps Alongside Caffeinated Treats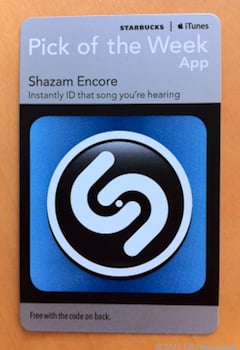 It's kind of comforting to know that no matter where you go in the world, Starbucks is there to deliver your tall skinny latté to its usual perfection. Things got even better for you (and your iTunes playlists) when the company began giving away free music tracks for featured artists and now, alongside your regular cup of joe, Starbucks will be offering up free apps to load on your iPhone.
First up for Starbucks' app "Pick of the Week" is Shazam Encore, a handy little app for music lovers that identifies the songs you're listening to out in the wild. This is quite a deal, as Shazam Encore usually retails for $6 in the iTunes App Store.
There's no word on how often Starbucks will be adding apps to their "pick of the week" lineup, but keep an eye out – it could save you some cash on cool apps.