Starbucks Offers Coupons For Foursquare Mayors
Starbucks Rewards Its Foursquare Mayors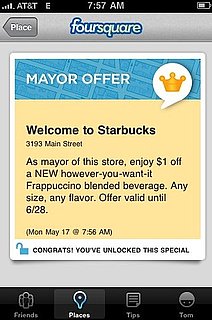 Starbucks has a history of embracing geekiness, from offering periodic free wifi to creating its own iPhone apps, the coffee giant is now rewarding Foursquare mayors with $1 off a Frappuccino.
Starbucks isn't new to the Foursquare game; they've sponsored a Barista badge, unlocked by Foursquare users who check into five different Starbucks locations. This promotion, however, focuses on mayors only; to earn $1 off a Frappuccino of your choice, become the mayor of any location to unlock the offer.
The promotion runs through June 28, so there's sure to be a heated fight for mayorship at many Starbucks locations!