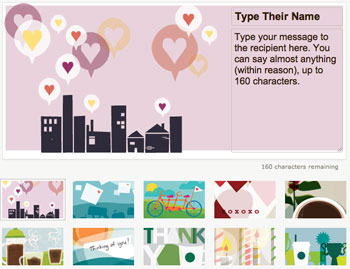 I'm already earning rewards on the Starbucks card I got over the holidays — free syrups here I come! — and now Starbucks is making it even easier for the masses to get hooked on caffeine with its new eGift Card program.
It's super easy to send an eGift Card to a fellow coffee-lover — just head to the eGift page, enter your name, message, dollar amount, and delivery date, and a lucky friend or family member will be on their way to earning rewards every time they head to a store. Recipients just need to print out the eGift card to use, or roll the balance over onto an existing account. Best part? The eGift cards can be used with the newly-upgraded Starbucks App, so they don't even need to pick up a physical card; they can just use their iPhone or BlackBerry device to pay!
You can send eGift cards to coffee-lovers (and Facebook friends) starting today.