StayFocusd Keeps Your Browsing Focused in Chrome
Download of the Day: StayFocusd
Similar to PageAddict for Firefox, Chrome plugin StayFocusd helps you block out all of the time-wasting websites to stay focused on the task at hand. The plugin, installed directly to Chrome's toolbar, restricts the amount of time you can spend on any number of websites you elect to block.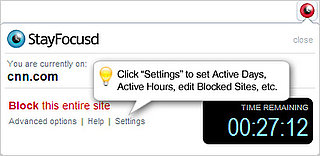 You can control the amount of time you allow yourself on certain sites (the default setting is 10 minutes) and also control the days of the week you're able to access the sites — so Facebook and Twitter can be fair game on weekends, for example.
Each site's controls are completely customizable; you can block entire sites, or you can choose to block only certain site pages. For example, you can block google.com/reader or google.com/pacman (note to self: block that page) without blocking other Google sites like the main search page.