Steve Ballmer on Xbox 360
Steve Ballmer Wants Girls to Get Excited About the Kinect, Xbox 360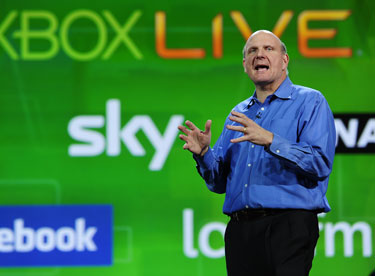 Microsoft CEO Steve Ballmer recently spoke to USA Today on the company's future plans, goals, and the state of gaming today. When asked if Microsoft resonated with the younger crowd like Apple seems to, Steve had an interesting response about girls and games. He says:
You go to your average 15-year-old boy, and he will say "I'll take an Xbox." I want that average 15-year-old girl as excited about the Kinect, and we haven't done as good a job drawing in that broader set of demographics.
While I appreciate Microsoft's efforts in making the Xbox more of a family entertainment center (heck, even Oprah gave them away), I have to say — I love the Xbox for its other games as well. One of my favorites, Fable II, is exclusive on the Xbox and really got me interested in other types of games that would normally be categorized as predominantly "male" titles. Now, I play Call of Duty, Gears of War, and Mass Effect just as often as I queue up Dance Central. Am I an exception, or are there more of you out there like me? Now I'm curious, girls, so tell me — which gaming console do you have at home?