Steve Jobs Announces iPad for Apple
The iPad Has Landed!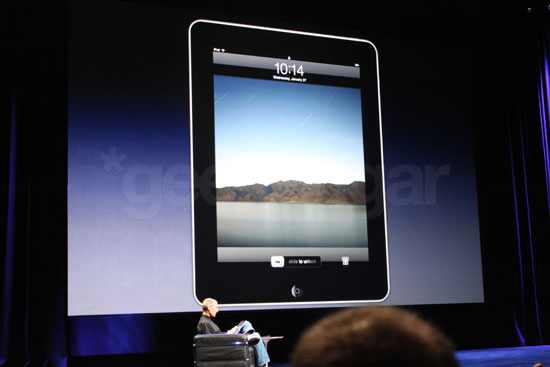 In 1991, Apple introduced the first laptop, and 20 years later, Steve Jobs brings us the iPad to bridge the gap between the MacBook and iPhone. Just like the iPhone, the iPad lets you browse the Internet, use the touchscreen to flick through your photos, get directions via maps, access the iTunes Store to buy apps, and watch movies and TV shows in landscape mode. Using the touchscreen keyboard, you can send emails, chat, and use the iPad like a regular computer. Hear the first details and see more images when you read more.
The iPad, like a giant iPhone, is super thin. It's a 1/2-inch thick, weighs 1.5 pounds, and the full capacitive multitouch display lets you take advantage of the 9.7-inch screen. The iPad comes with 16 to 64GB of flash storage, WiFi, and Bluetooth, an accelerometer, a compass to help you use maps, and a speaker and mic (but no camera) for chatting. A 10-hour battery life (with more than a month of standby) lets you use the iPad without a worry of whether or not you have a power source. And it's eco-friendly. The iPad is arsenic-, BFR-, and mercury-free, and the body and glass are made from recycled parts.
More good news! The new iPad will be sold unlocked, and you won't need a contract; all data plans will be prepaid. There are WiFi and WiFi plus 3G coverage options, starting at $499 for 16GB with WiFi and data plans through AT&T starting at $14.99 a month.
A few more technical details: the iPad has an LED display and IPS display technology, making it easier for more than one user to view the iPad at a time.