Steve Jobs Emails Book
Download of the Day: Letters to Steve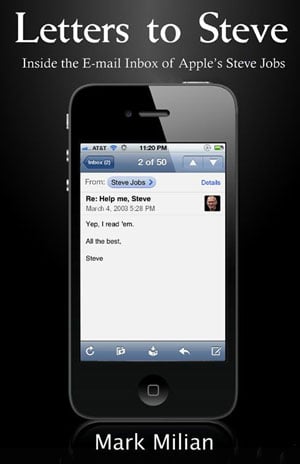 For hundreds of Apple customers, their email to former CEO Steve Jobs regarding customer service or accolades and critiques were actually answered by the man himself. As strange as it may seem for the leader of the country's biggest company to take the time to respond to missive from the public, which he did as documented now in a self-published Kindle book titled Letters to Steve: Inside the Email Inbox of Apple's Steve Jobs ($3) by CNN technology writer Mark Milian.
Anyone that read the Walter Isaacson biography knows that Steve had a firm grasp on even the smaller details of running Apple, so perhaps responding to a few of the many fan (or critic) emails he received should come as no surprise. The book details many circumstances where Steve responded curtly to emails where customers had complained about their wireless carrier's data plans, but it also recounts tales of when the CEO spoke up for the customer. One story details Steve actually calling a customer who had written him about the long wait time to have a computer fixed. Steve Jobs phoned his home apologizing for the delay and to voice appreciation for a customer who supported Apple "in the good times and bad."
True, the book isn't available on iPad, but we'll definitely pick up the Kindle book for a peek at the Apple legend from a customer's perspective.