Stream Movies and TV Online
Miramax Adds More Streaming Video Options to Facebook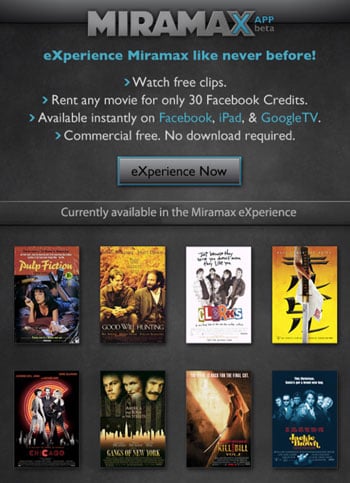 Good news for those wishing to stream movies online: Hollywood movie studio Miramax joins the streaming media crowd with the launch of a Facebook app called Miramax eXperience. For $3, rent any of the available movies, like Pulp Fiction and Kill Bill (in addition to previously mentioned Doctor Who episodes) for commercial free viewing on Facebook, iPad, and GoogleTV.
Miramax's foray into Facebook video streaming is just one addition to the many streaming options consumers can choose from for their entertainment needs, including the following:
For those who love the freedom of choice, check out more streaming options after the break.
Epix — A joint venture between movie studios Viacom, Paramount, Metro-Goldwyn-Mayer Studios, and Lionsgate, Epix offers 150 movies, though it can only be accessed through an existing cable subscription.
Amazon Instant Video— The online retailer recently signed an agreement with CBS making shows like Star Trek and The Tudors available instantly on the site. Over 8,000 video titles are available via Amazon for a fee.
Comcast — The cable provider's Xfinity iOS app for iPods, iPhones, and iPads gives customers who already subscribe to Comcast cable mobile access to over 6,000 hours of video.