Summer Chrome Extension
Download of the Day: Summer
As pop culture savvy as you are, sometimes you stumble across a celebrity name and wonder "Who's that?" The guessing game ends with Summer (free), which is exactly what co-founder Oz Katz intended when he created the extension for Google Chrome. Context is important, Katz said in an e-mail, which is why the team at Summer decided to pursue the project.
"Humans are curious by nature and that's probably the reason why most of us start with one open tab and end up with about 15 . . . Our mission is to create a better, more engaging way for users to experience content by allowing them to simply get the information they want instead of manually searching for it across the web," he explained.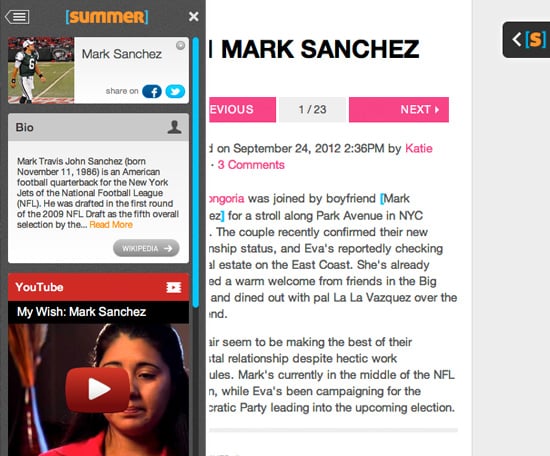 Say you saw the story about Eva Longoria and her new boyfriend, Mark Sanchez. If you've never watched football, then you wouldn't know that Sanchez is the Broadway-loving quarterback of the New York Jets or that he's one of only two quarterbacks in NFL history to reach the conference championship in their first two seasons in the league. That's where Summer fills in the blanks.
Once the extension is installed, a widget shows up on the right-hand side of media sites that support Summer, like The Washington Post, TechCrunch, People, our very own PopSugar, and many others. Blue brackets appear around names mentioned in the article, and clicking on those names opens the widget, displaying the person's bio, a YouTube video about them, their Twitter feed, or, in the case of Sanchez, their ESPN stats. Summer makes it easy to find information about important people or topics without navigating away from your current site.