Super Mario All-Stars Limited Edition
Here's What's Packed Inside the SMB 25th Anniversary Edition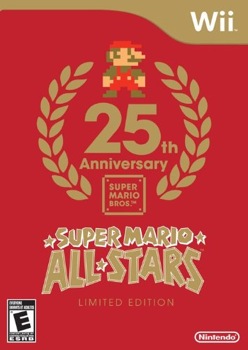 Your SNES may be packed away in storage somewhere, but you don't have to dig it out in order to relive the glory days of your video-game-playing youth. Instead, pick up the Super Mario All-Stars: Limited Edition ($45) for some vintage gaming fun.
Coming stocked with Super Mario Bros., Super Mario Bros.: The Lost Levels, Super Mario Bros. 2, and Super Mario Bros. 3, you can get your game on at home, and even listen to the tunes of the collection thanks to an included CD soundtrack packed with themes and sound effects from all four games; I can only imagine the mash-ups that will come of it. Tossed in for good measure is a 32-page booklet filled with interviews, photos, and concept art for you to browse through when you're not playing or jamming. Best part — you can use your older Classic and Game Cube controllers to play all of the titles. Double rainbow all the way! But is it worth the cost? Find out after the break.
Sure, Nintendo basically threw our favorite games into one disc, repackaged it for 25th anniversary fun, and tossed in a CD of music (that you'll probably never really use). But should you spend $45 on it? I'd say absolutely! You can't get that kind of happiness in a jar, but you can get it while replaying your favorite childhood video games. Add it to your cart now!
Update: You can find Super Mario Bros. All Stars in stores (Best Buy and Toys R Us for example) for as little as $30!