Super Mario Bros. Wedding Centerpieces
How-To: Have a Super Mario-Themed Wedding
More than anything else, your wedding should reflect your personality. Whether that happens to include a retro vibe, country feel, or come packed with geeky touches, it's all about you and your partner. Take for example, these genius centerpieces I came across on Flickr that show off one couple's commitment to gaming. The Super Mario Bros Super Star, Piranha Plant, and Fire Flower centerpieces could add a geeky touch to any wedding, but when combined with other SMB elements, can totally show off your Mario love, and take your wedding into geek overdrive.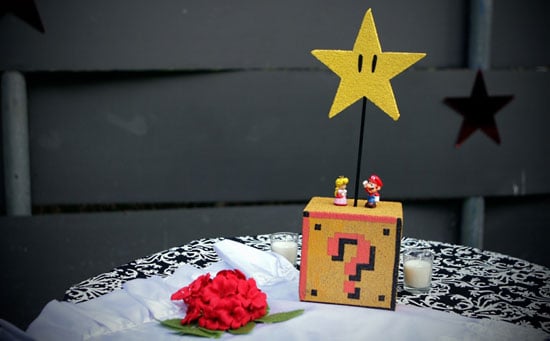 Especially made from Etsy seller SketchCustoms circa 2010, crafty geeks could attempt to DIY their own — and save a few bucks in the process — by using construction paper, some Styrofoam (or even better, floral foam, since you can reuse it for homemade flower arrangements, or donate to your local flower shop later), and some elbow grease.
Want to see other ways you can geek out your wedding with Super Mario-themes? Of course you do! Just keep reading.


Source: Flickr user StephLobster