Surface Pro Release Date
Surface Windows 8 Pro on Shelves Now — Where and What to Buy
Microsoft is adding another tablet to its Surface Windows 8 lineup — Surface Pro, the high-performance version of the already-released Surface RT tablet, which is available starting today in the US and Canada.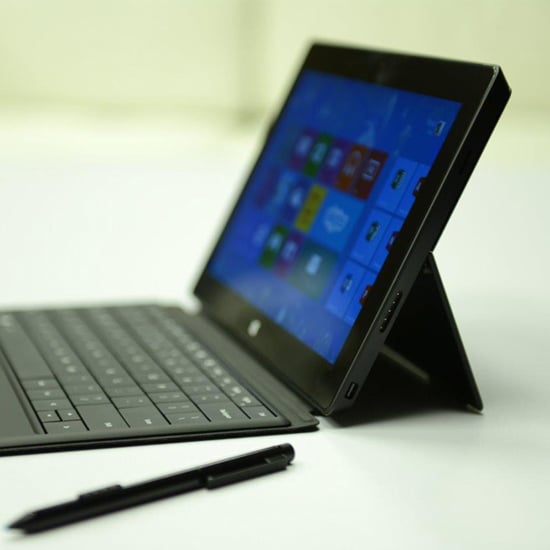 Unlike the Surface RT, the Pro runs a full Windows 8 desktop operating system and supports current Windows 7 applications. It's more comparable to ultraportable laptops than tablets that run on a mobile OS. The device costs $899 for the 64GB standalone version and $999 for the 128GB model.
When we asked readers in November if the hefty price tag was worth it, only 37 percent said "yes" (for comparison, the 64GB iPad Retina is $699). But if you've spent the last couple of months reconsidering, here's a guide to where the Surface Pro is available, what you're getting right out of the box, and which accessories are available.
Where to buy — Starting Feb. 9, both 64GB and 128GB versions will be available at all Microsoft retail stores, MicrosoftStore.com, and Staples and Best Buy in the US.
In the box — The dark titanium-colored tablet comes with a capacitive Surface Pen that has a digitizing technology called Palm Block. On the outside, the body is comparable to the Surface RT, just thicker (14mm) and a little heavier (2 lbs.), and both the front- and rear-facing cameras are 720p HD. On the inside, there's an Intel Core i5 processor and the 10.6-inch display runs 1920 x 1080 full HD resolution.

A note about 64GB — Microsoft notes that the Windows 8 system software uses significant storage space and "available storage is subject to change based on system updates and apps usage." If you're thinking about using the Surface Pro as your primary computing device, consider getting the 128GB model.

The accessories — The Surface Pro very notably does not include the touch or type keyboard covers with a trackpad that click into the edge of the tablet. The touch version ($120) is pressure sensitive, while the type version ($130) is more like a full-fledged keyboard. Both covers work with Surface Pro and RT tablets.