Susan Orlean Geek Tech Tips and Interview
Geeks We Love: Susan Orlean Shares Her Tech Secrets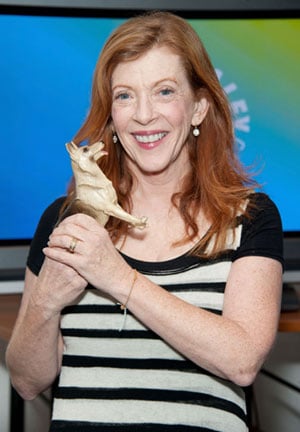 As a New Yorker staff writer, author of nonfiction books on subjects ranging from Rin Tin Tin to orchids, and woman with an all-around awesome job, Susan Orlean spends a lot of time alone writing from home on her latest reporting venture. So when she wanted to find all the camaraderie of an office no matter where her travels took her, guess where she turned for comfort . . . Twitter.
In an event at this year's Macworld in San Francisco, Susan explained that Twitter changed the way she worked, thanks to conversations with strangers, and helped to solidify her place with the geeks. Here's more of what we learned from our favorite tech-obsessed writer, including how to work efficiently with technology and deal when a loved one won't convert to your favorite gadget brand.
Keep the analog — Though Susan was speaking from her perspective as a writer, her tip to always keep a little part of your work in the offline, analog world can apply to so many other fields. It's a reminder to rely on our wits in the face of fast information. Don't Google every question that pops up, go out into the real world and discover the answer for yourself.
Don't skip the human part — Twitter serves as a natural extension of friendships, but it certainly doesn't replace the subtle nuances that occur in face-to-face interaction. Keep your curiosity (and relationships!) intact by picking up the phone or meeting for a coffee chat.
Download Evernote! — When asked about her favorite app, Susan emphatically responded, "Evernote." Its functionality across desktop, browser, phone, and tablet platforms lets you stay productive from anywhere and never forget the digital content that matters.
A united tech household is key — As someone that's "hopelessly obsessed with new gadgets," Susan understandably is an Apple evangelist, a brand known for its enthusiastic early adopters. The new products and industrial design beauty only goes so far, though, when half of the house is living in a different world — a PC world. After coping with a home office filled with piles of cords and multiple printers for the different operating systems, Susan half-jokingly finally convinced her husband to switch to Apple products when she simply stopped packing the bulky cords for his PC. Now they live in OS harmony.
Are you someone like Susan who has found a way to make social networks help you develop relationships and achieve work goals, rather than let them distract?