AT&T Black Friday and Cyber Monday Sale
AT&T Takes Sales Online For Black Friday, Cyber Monday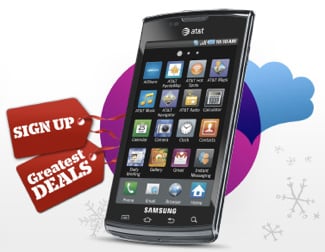 Want to get your hands on a new phone this year? AT&T has you covered over the big Black Friday and Cyber Monday shopping weekend, but you won't have to get up from your desk to find a good deal. Instead of opening in the wee hours of the morning, AT&T is holding an all-online holiday blowout sale next weekend where you can pick up a few good smartphones, quick messaging phones, and refurbished models for next to nothing. And by next to nothing, I mean a penny. Every day starting on Nov. 26 and running through Nov. 29, there'll be something new, so mark your calendars, set your alarms, and check out the schedule of events after the break.
Black Friday, Nov. 26
Starting at 12:01 a.m. EST, touchscreen devices, like the iPhone will be deeply discounted.
Saturday, Nov. 27
Refurbished devices — including the BlackBerry Torch — will be on sale for just a penny starting at 12:01 a.m. EST.
Sunday, Nov. 28
12:01 a.m. EST marks the beginning of AT&T's quick messaging device sale, where the Pantech Link, LG Vu Plus, Sharp FX and the Pantech Pursuit will be free with a $20 messaging plan or unlimited data plan.
Cyber Monday, Nov. 29
AT&T's big smartphone sale will kick off at 9:01 a.m. on Cyber Monday. Every three hours, you'll find a new smartphone on sale for a penny. Eligible models will include the HTC Aria, BlackBerry Curve 3G, Motorola Flipout, Ericsson Xperia X10, and the Motorola Bravo.