Just when we get used to the idea of AT&T setting limits on our data usage, we hear rumblings of another potential cap — upload speeds.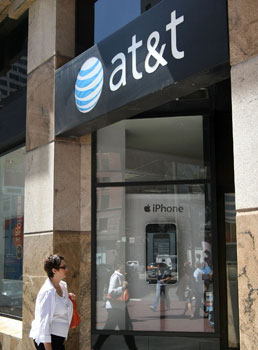 If you thought the new iPhone 4 uploaded pics and vids at wicked fast speeds, that's partially thanks to the included HSUPA technology that allows for fast uploading on networks with little lag and latency. However, it seems that AT&T's upload speeds have taken a nosedive over the past few days.
AT&T customers have been reporting a serious drop in upload speeds — from as much as 1.5 Mbps down to 100 kbps, which is slow, slow, slow like dial-up. Apparently, AT&T is set to make a statement about the capping (or problem, as it may be) explaining what the issue is. But what does this potential upload speed cap (or breakdown) mean for you? Find out after the break.
A slower upload speed means that your photos and videos — which you send to your social networks and favorite websites — will take longer to upload to the site or app via a 3G connection. Videos can be especially taxing to upload, so be prepared to wait a while for that video you took of the neighborhood dog walking on his hind legs to make it to Facebook, or the TwitPic of your awesome lunch to broadcast to your Twitter followers. However, if you're uploading via a WiFi connection (say, while at Starbucks), you should be good to go at top-notch speeds. If you want to know how fast your iPhone is right now, you can download a reliable app called SpeedTest.net Speed Test (Free) and get the lowdown.