T-Mobile G2 Details
T-Mobile Teases G2 With Geekiest Tweet Ever; Confirms Specs
Rumors of the T-Mobile G2 have been flying around since 2008 (!) but there's new confirmation that an announcement of the device is finally in the works — via an incredibly geeky tweet. The message, posted by T-Mobile's Twitter account is entirely in binary code and, according to those familiar, translates to "G2newscomingsoon."
01000111 00110010 01101110 01100101 01110111 01110011 01100011 01101101 01101110 01100111 01110011 01101111 01101111 01101110less than a minute ago via CoTweet
T-Mobile USA
TMobile
Rumors say that the new device will cost $199 with a two-year contract, or $499 without, however, we got some confirmed details in a press release last night. Find out what the G2 is packing under the hood (along with a new pic) after the break.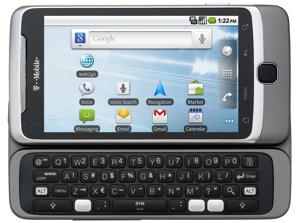 According to the press release, the T-Mobile G2 will come stocked with a 3.7-inch touchscreen, 800 MHz Snapdragon processor, seven different customizable home screens, Flash support, Swype, HD (720p) video recording, a 5MP camera with LED flash and autofocus, 4GB of on-board memory and an 8GB microSD memory card (expandable up to 32GB). T-Mobile confirms that the G2 will be available to preorder later this month for current T-Mobile customers, while pricing and exact availability details are coming soon. Exciting news, but I wonder . . . how soon is "soon"?