AT&T Offers Free WiFi in Times Square
Thanks, AT&T . . . Can Everyone Get Some of That Free WiFi?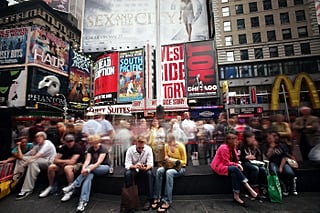 In a press release issued today, AT&T announced it is sponsoring free WiFi in Times Square to alleviate some of the traffic on its already-strained 3G network. The WiFi "hotzone" is available free to AT&T customers with qualifying smartphone, 3G LaptopConnect, and AT&T High Speed Internet plans.
To find out where exactly the hotzones are located in Times Square, and how they can be utilized, just read more.
The service, installed at the north end of Times Square, won't reach too far, but it will help the crowds make phone calls, receive texts, email photos, and look up directions by taking a little bit of pressure off of the 3G network. Now, if we could only get some AT&T-sponsored WiFi in other problem areas! (Though, if your home or office is one of those "problem areas" you could always pick up one of these $150 gadgets for a stronger signal.)