AT&T U-Verse Coming to Xbox 360
U-Verse (Finally) Coming to the Xbox 360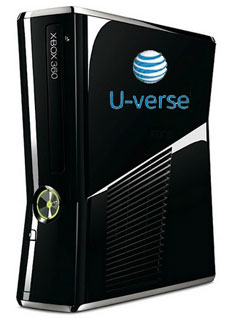 2007's CES brought the news that AT&T's U-Verse service would be coming to the Xbox 360, and according to a new report, that dream is finally becoming reality next month.
Three years after its initial announcement from former Microsoft CEO Bill Gates, AT&T will be allowing Xbox 360 owners to access U-Verse programming from a dashboard app on their consoles, essentially turning their Xbox into a U-Verse set-top box that streams programming over your broadband Internet connection. Other than eliminating one extra set-top box from your home theater, that's really all it does. Handy? Yes. Essential? Probably not. But there are a few catches if you want to get in on the deal. Find out what they are after the break.
In order to access AT&T U-Verse on your Xbox 360, you'll need a few things:
AT&T U-Verse service subscription.
Xbox 360 with a hard drive (Arcade versions won't work).
At least one DVR in your home.
Pending more details, it seems all you'd need to do is download the U-Verse dashboard app on your Xbox, sign in with your account, and away you go. U-Verse on the Xbox is reportedly launching on Nov. 7, so stay tuned for more details.
I don't know many U-Verse users (since service areas are still pretty limited), but if you're a U-Verse customer, tell me — will you be using your Xbox 360 to access your programming?