TARDIS Interior
Tour the TARDIS! See the Blue Box From Both Sides of the Pond
The time is now, Whovian! The Doctor's TARDIS (Time and Relative Dimension in Space, of course) is ready for your inspection, just in time for the highly anticipated 50th anniversary special. You can probably spot the iconic blue police telephone box from a mile away — but how well-acquainted are you with the internal mechanics of Doctor Who's time-traveling spacecraft?
Whether you're a born-and-bred Brit or a BBC-loving American, there are plenty of ways to poke around the blue box on the web and at the actual Doctor Who set in Cardiff, Wales.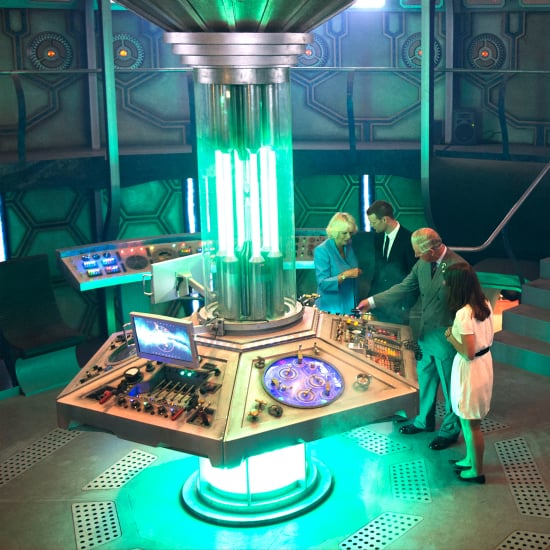 Google Maps
A lovely little easter egg, courtesy of Google Maps, offers Whovians a "street view" 360-degree panorama of the TARDIS's interior. Head to the Police Telephone Box and click "See Inside" on the right to enter the TARDIS from anywhere in the world. Do read the reviews — you'll definitely get a laugh.
Official TARDIS Set Tours
Starting Summer 2013, for the first time ever, the Doctor Who Experience in Cardiff, Wales (about two hours west of London), is adding a visit to the TARDIS set and console room from the 2012 Christmas special, "The Snowmen," to its already spectacular tour of the Doctor Who filming locations around Cardiff Bay. Ticket prices are about 30 euros ($40) for adults.
Clara, Inside the "New" TARDIS!
But how are the contents so much larger than its container? Experience the TARDIS as Clara Oswald did, for the first time, in the 2012 Christmas Special. Uh, hello goosebumps.
Cribs: TARDIS Edition
The "new" TARDIS's designer, Edward Thomas, takes us on a Doctor Who set tour of the redesigned spacecraft, pointing out all the new features — and the classic ones, too.