Target Streaming Video Service
Target Introduces Video Streaming Service With 10 Free Downloads
Target is getting into the streaming service with its announcement Wednesday of Target Ticket, which has 30,000 movies and TV episodes to buy or rent. Many new video rentals are $4 (with a 48-hour rental period), with just-aired TV episodes available for purchase at $2.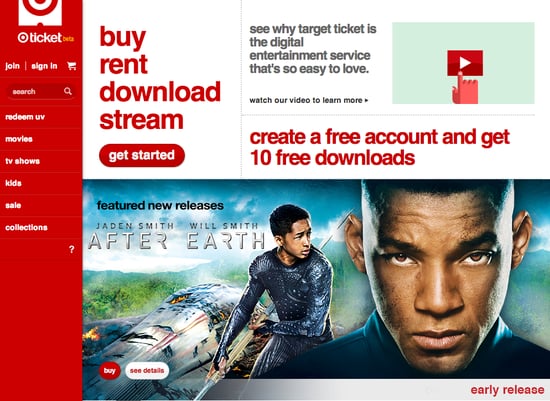 The retailer designed its digital video option to be family friendly. Similar to Netflix, the service allows users to create profiles for each family member, letting parents set child-friendly content filters based on age appropriateness, MPAA and TV ratings, and violence or profanity levels. Each movie or TV show's content page includes not only Rotten Tomatoes ratings, but also a field by Common Sense Media that lists what parents need to know about the program.
Target Ticket is available on the web on PC/Mac, Roku, Samsung Smart TVs, Blu-ray players, and the iOS or Google Play apps. Need some incentive to sign up for yet another streaming service? The company's offering 10 free downloads of select movies at sign-up.