Tech Dating 101: Rules For Meeting in Real Life
Tech Dating 101: Meeting IRL For the First Time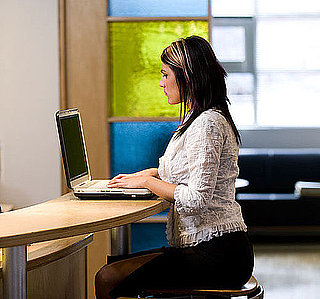 I have two close friends who met online. Not through a dating service, but through mutual friends, blog posts, and Twitter accounts. If you've ever tried it, you'll probably agree that flirting online can be a lot easier than flirting in person, especially in the beginning stages of a relationship. This explains why he might act differently online than in real life.
I'm all for IRL meetings with a friend/potential significant other you've met online. I've heard many dating success stories (including the aforementioned friends, whose relationship is going strong years later). That is, assuming you've done your research (a little bit of virtual stalking is OK in this case). There are some rules I think you should follow, beyond the obvious keep-you-safe variety. To see what they are,
.
Do your research. I know I just said that, but it's the most important. I'm assuming as a savvy geek girl, you'd be able to figure out whether or not your potential date was, say, an ax murderer. Do you have mutual friends — even mutual Facebook friends?
Manage expectations. You know that profile photo you agonized over for hours before posting it on the dating site? Or the profile you so carefully created? Or even the emails you meticulously composed? Right. He did the same. And real conversation doesn't always move at digital conversation pace. Meaning: neither of you have the chance to preview, proofread, and thesaurus the crap out of every sentence you write. Understand this, and behave accordingly.
Meeting on the Internet is not taboo. I know a lot of couples are wary of disclosing to others that they met on the Internet for fear of judgment. But it's already so much a part of our day-to-day life that there's no way it's taboo. If anything, it's the opposite — and completely resourceful.
Keep it light, at least at first. Once you've clicked online, it might seem natural to dive right into an in-person friendship, relationship, whatever. But no matter how much you've talked, don't forget that you're still technically in the beginning stages of getting to know each other. Moving too fast might leave one — or both — of you freaked out.
Please, someone, agree to meet your Internet "friend" while holding a red rose. And then please write and tell me about it, photos optional.
Do you have a Love 2.0 questioned you want answered? Create a PopSugar account or log in to your account. Then join the Tech Dating 101 group, because we understand that love and dating are stressful and the Internet and social networking sites can just make things worse. You never know, your question could be featured on GeekSugar! Here's a detailed guide to posting questions or posts to groups if you are new to the PopSugar Community.