Tech Etiquette Tips
5 Tech Etiquette Slip-Ups to Avoid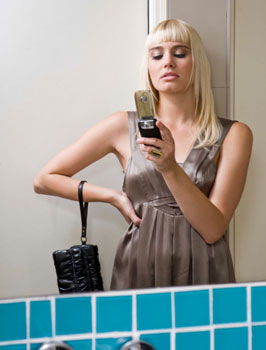 It's easy to forget basic tech etiquette when we're busy catching up on emails, phone calls, projects, and deadlines, but be sure to check yourself before you wreck yourself in the etiquette department by following these five rules every day.
Walking or driving while texting — Not only is texting while driving illegal in most states, texting while walking is just as dangerous to you and innocent walkers around you. If you must send a text while you're on foot, pull it over to the edge of the sidewalk and wait until you click "send" to keep moving. It'll save you time, embarrassment, and possible medical bills if you happen to slip, trip, or fall down on uneven pavement.
Using your cell in the bathroom — Chitchatting while on the toilet has been labeled rude, gross, and unnecessary by our readers, and it's just plain uncomfortable to have to listen to someone's conversation. Save the calls for the halls, please.
See the rest of the list, including the most heinous, mobile-etiquette offender after the jump.
Using your cell at the checkout counter — If you're in the checkout line, make sure you end your call or put the person on hold before you reach the cashier; it's just good manners. If your call can't wait, then maybe you should consider staying out of line until you are finished with your call.
Not BCCing your contacts in an email — Sending out mass emails without BCCing your contacts lets everyone see everyone else's email addresses. Not only is it deemed unprofessional, but could be seen as a breach of privacy, too!
Texting while sexing — In what could be the most rude, embarrassing, and disturbing act of tech etiquette, 10 percent of Americans think that it's OK to interrupt sex to check text messages. Just say no to texting while sexing. Your love life will thank you for it and so will your karma.