Tech Tips For Fitness, Crunch Gym App
Check In to Your Crunch Gym With an App, Skip Lines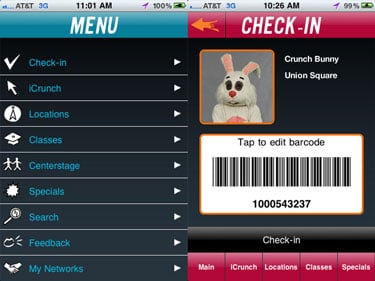 There's nothing worse than being late for your favorite kickboxing class during the after-work rush only to find the front desk check-in line is super long, making you even later. Embarrassing? Totally, especially if the instructor likes to put you on blast for being tardy. Good news if you're a Crunch member: you can skip the check-in line at your local locations with the new Crunch App for the iPhone and Android devices.
Just open up the app, find the gym closest to you (along with upcoming class schedules), and check in on the app instead of waiting in line to scan your key card. Lines, be gone! Now you'll have time to chat up that hot guy you always see on the StairMaster before sweating it out in class. It's a win-win.
Download the apps in iTunes, Android Marketplace, or the Crunch website now for free! And since we're talking about fitness (and probably your New Year's resolutions), check out four more apps and websites that will help you work your bod when you read more.