Tech Tips For the Kitchen
Now You're Cooking: Alex Guarnaschelli's Tech Tips For the Kitchen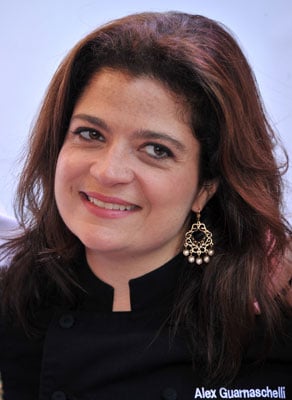 The mother of all cooking holidays is fast approaching, but you don't have to let it stress you out. Thanks to technology, you can keep your kitchen in order and clutter-free. Take it from the Food Network's Iron Chef America star, Alex Guarnaschelli — she's partnered up with Microsoft to mix food and tech to help you move gracefully from Thanksgiving to Christmas and beyond, without burning your nerves.
Ditch the Paper: I used to have a million scraps of paper for grocery lists and recipe ideas, but now I organize it all on my phone instead. There are a lot of apps out there for this, but I really like OneNote, available on Windows Phone 7 phones. OneNote also has an audio-notes feature that I can imagine my mom using to record some notes for me on our family recipes.
Simplify Cooking: Cookies are always a holiday staple and can be made in advance to save time on the big day. I can make my favorite cookie recipes from memory — the ones my mom and I bake every year — but when I'm looking for something new, there are search tools that make recipe hunts a lot easier. For example, Bing has a recipe search tool that includes pictures and can narrow down results by cooking method and occasion.
Keep It Clean: I always feel better when my counters are clean — and I've found the same is true for my PC. I like to keep recipes and notes off of my desktop and online. SkyDrive is an easy tool to use to store files for free, and I can access my SkyDrive from my PC or phone, and send photos or meal ideas to my family and friends.
Get Out: As much as I enjoy creating a fulfilling meal for my family, sometimes you just have to let someone else do the work. One of my favorite Windows phone features is Local Scout — anywhere I go I can scroll to Bing on my phone, press the Scout button, and see what restaurants and bars are close by, including reviews.
Hear about the gadgets Alex hopes to find under the tree this year after the break.
Samsung Series 9 ($1,650) — A new PC is always a good gift, and this combines sleek design and durability for anyone who's uses their PC in a harsh environment — like a kitchen.
HTC Radar 4G ($100)— This new phone provides quick access to all of your favorite people's social networks. It also has and great, built-in apps that can be used to find, record and share holiday recipe ideas via voice or text.