Drunk dialing, drunk texting, drunk emailing, drunk blogging — it's all a pretty bad idea. Thankfully, technology is on your side and there are a number of ways your tech can keep you from making margarita-induced communication mistakes.
Gmail's Mail Goggles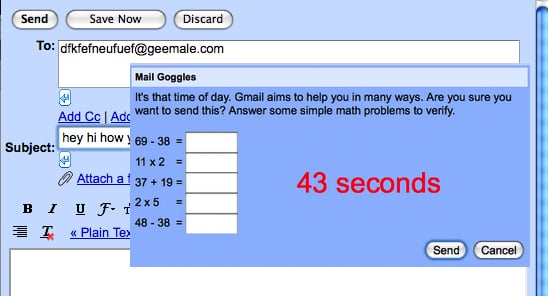 Gmail's legendary Mail Goggles Lab [1] makes you do math problems on weekend nights between certain late hours. (FYI the pressure is high drunk or not.)
Designated Dialer App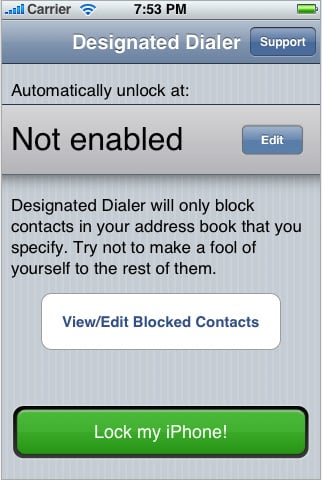 So you have enough coordination to slide your iPhone unlocked. Download the 99 cent Designated Dialer [2], which will let you lock out certain contacts before you start drinking, and if you try to call them, you'll get the service's number instead reminding you you shouldn't be calling them. To unlock it, you just have to perform a coordination exercise to prove your sobriety.
Gmail Labs' Undo Send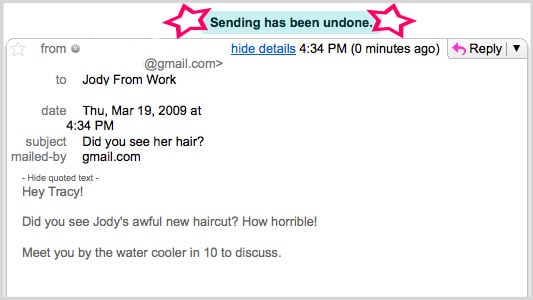 If you start typing an ill-advised screed to an ex or potential love, aided by Chardonnay, make sure you've installed Gmail's Undo Send Lab [3] so you can stop an outgoing email — provided your reflexes are fast enough to hit the undo button.
iDrunk Dialer App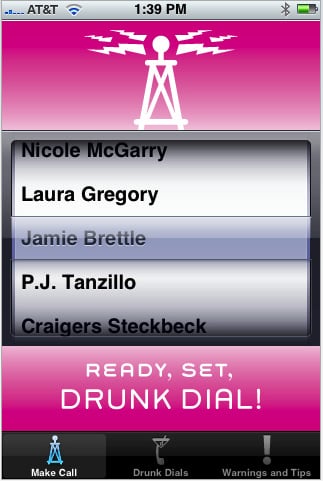 If you can't beat 'em, make the calls. With the iDrunk Dialer app [4], you set a contact list of people it's OK to drunk dial, so if you know you're gonna do it, it might as well be to your buddies.
Texts From Last Night
Maybe cautionary tales are enough to get you to not drunk text. Spend a few minutes on the website Texts From Last Night [5] and after you have your chuckle, be reminded exactly where you don't want to be tomorrow.