Technology and Social Media Sharing Etiquette at Weddings
7 Wedding Tech Etiquette Rules
Smartphones at a wedding, and the ability to instantly capture memories and share them with others, can be both a blessing and a curse. When the emotions are high and the champagne flutes are flowing, err on the side of caution before publicly postings certain photos, which could potentially upset the bride and groom (maybe they want to be the first to share photos of the food on Facebook!). Since you're an invited guest, maintain good tech etiquette with our seven-rule guide: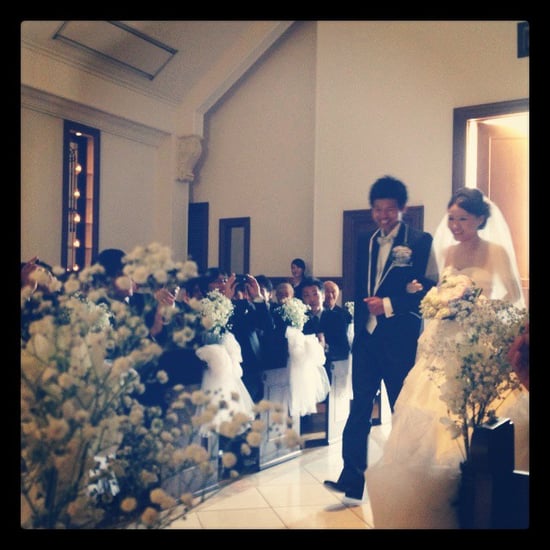 Ask first: Before you start snapping and sharing away, ask the bride and groom if it's OK or if there is anything they would prefer you don't capture. While many people actively engage in social sharing, some prefer a private and intimate affair.
Don't circulate dress photos before the ceremony: As tempting as it is to tweet a photo of the bride's gown before the ceremony, never ever do it! It spoils the surprise for the groom and guests.
Be courteous and cautious: The vibrating buzz from your cell phone is distracting, so keep the attention on the bride and groom by turning your cell phone off, putting it in airplane mode, or silencing the vibrator during the ceremony.
Capture big moments when appropriate: The bride and groom are busy greeting their guests throughout the reception. Don't follow them around like paparazzi, but do snap big moments like toasts, first dances, and the cake cutting. The bride will appreciate seeing your photos before the photographer's come in.
Find out the one photo you should whip out your phone for after the jump.
Keep the commentary to yourself: Even if you think the food is inedible or that it's hilarious that the groom is sloshed, the web is no place to publish offensive thoughts and bawdy photos (especially if you want to remain friends). Avoid the negative, and focus on the positive!
Remember the most important photo: The night goes by fast, so keep your phone at hand when you finally do have an opportunity to greet the bride and groom. That way you are prepared to snap at least one photo with the couple, which is arguably your most important personal photo from the event.
Pay attention to your friends — not your phone: Sometimes your smartphone can be overly distracting at social events; try to forget Facebook, Twitter, and Instagram for a few hours, and enjoy the moment.