Tesla Model S Safety Rating
The Tesla Model S Is the Safest-Rated Car Ever
The "S" in Tesla Model S probably stands for sedan, but today, the initial should be renamed to mean safety. The National Highway Traffic Safety Administration (NHTSA) has a five-star safety rating scale — and the Model S just earned 5.4 stars.
Tesla's four-door, all-electric sedan is so safe that during a top-down impact test, the Model S's all-glass panoramic roof was so strong that the testing mechanism broke. Looks like Tesla is raising the bar (or, er, roof) in terms of auto safety.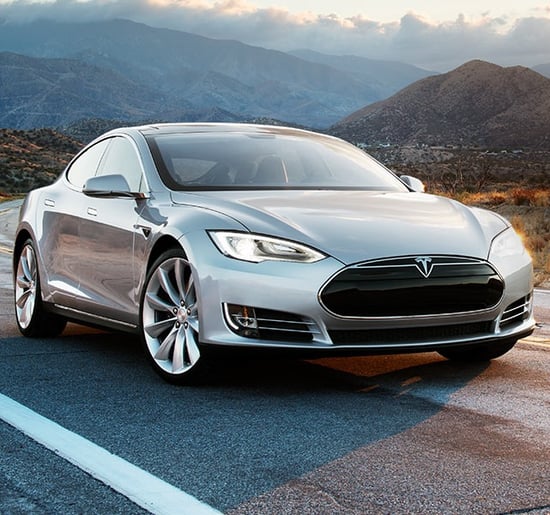 The overachieving sleek sedan is, in fact, the highest-rated car of any make and model tested by NHTSA in the US. Hop into the Model S's high-tech interiors, and you'll be riding in a vehicle with the lowest likelihood of injury to its occupants.
What makes the Model S's risk of danger so low? Tesla's main advantage is that there isn't a highly flammable, gasoline-fueled engine under its front hood. The battery pack runs the length of the car underneath the body, so the Model S actually has two trunks: one in the front and one in the rear. This secondary trunk in the front gives the Tesla a larger "crumple zone," or area in which to absorb a high-speed impact. If a Model S driver slams into the vehicle in front of her, it's very unlikely that the hood of the Model S will explode from the impact.
The car's bottom-mounted lithium-ion battery did not catch fire during testing either, and the company notes that there is no record of a Tesla battery combusting in a Model S or Roadster vehicle . . . ever.
Not only does the all-electric Tesla Model S (starting around $52,000) rock a 17-inch built-in dashboard display, an NVIDIA Tegra 4 processor, and 130 miles per hour top speeds, it's also the safest sedan on the market. We know what we'll be putting on our wish list for the holidays.
Of course, it's not unlike CEO Elon Musk to set new standards for transportation. The man behind Tesla Motors, PayPal, and SpaceX recently publicized the findings of his new pet project, the Hyperloop, which would transport Californians in a sealed vacuum tube from San Francisco to Los Angeles in 35 minutes.