Hello, blue-bubble friends. Ready to master iMessage, Apple's texting messenger? You've come to the right place. Read on for the iPhone texting tips and tricks you might not know about!
Enable/Disable read receipts.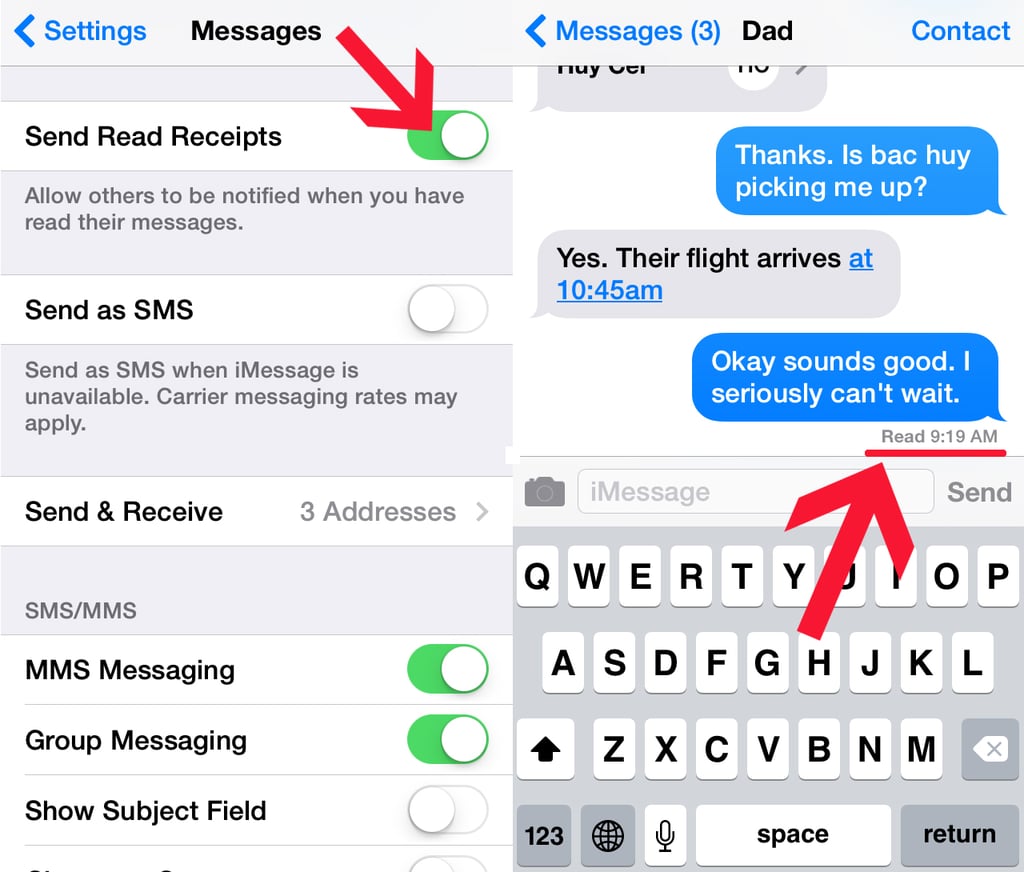 Enabling read receipts means that the person you text can see when you've read their text message. This, obviously, has pros (transparency) and cons (you look like a jerk for not responding right away).
Open the Settings app, select Messages, and slide to enable or disable Send Read Receipts. Once it is enabled, the receipt will say "Read [time here]" beneath your latest text.
Photo: Nicole Nguyen
How do I write in all caps?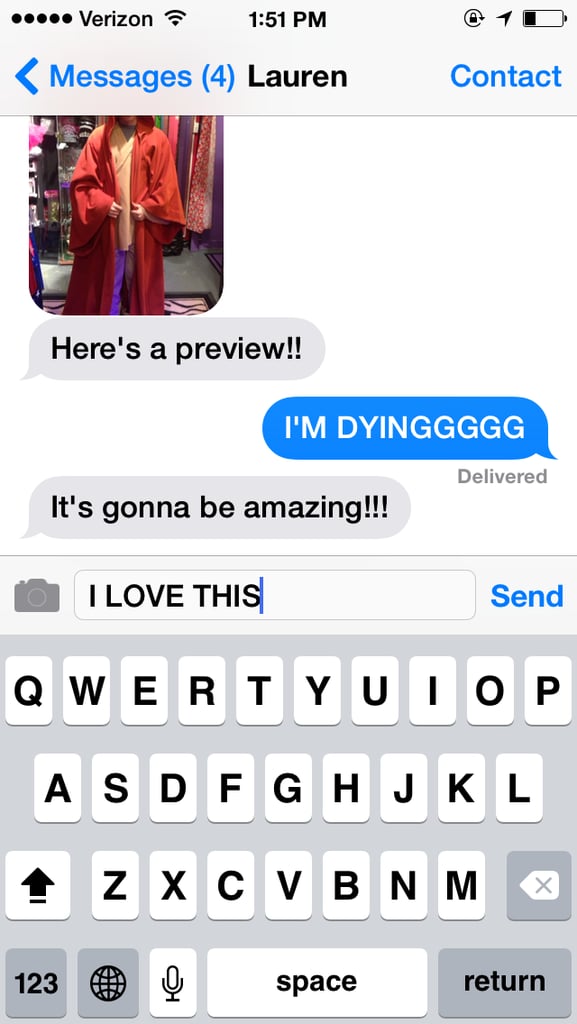 When the keyboard is open, double tap the shift key to turn it into the caps lock key. YOU'RE WELCOME.
Photo: Nicole Nguyen
Send texts from your Mac.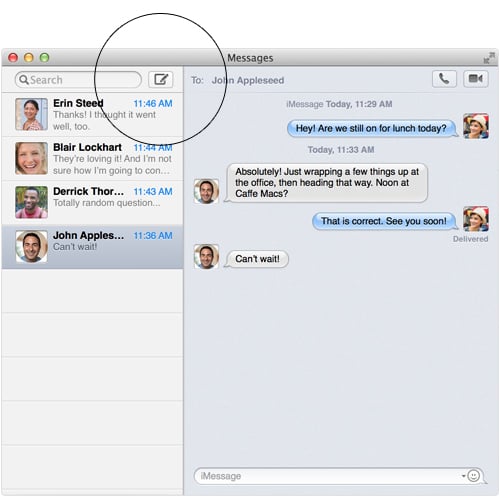 Messages for Mac comes with OS X Mountain Lion (version 10.8) and up. It's basically the best way to send texts from school or work without looking down at your phone all. the. time.
Apple has a great tutorial [1] on how to set up Messages with your Apple ID. Essentially you'll need to sign in with your Apple ID on both your computer and mobile device. Then you'll need to open the Settings app, select Messages, and enable iMessage on your iPhone. Tap on where it says Send & Receive, and make sure the correct Apple ID and phone number is associated with your device.
Where it says "Start New Conversations From," you may want to select your phone number. Or else when you text people, your Apple ID email address would show up instead, which would be weird.
Source: Apple [2]
Send a precise location.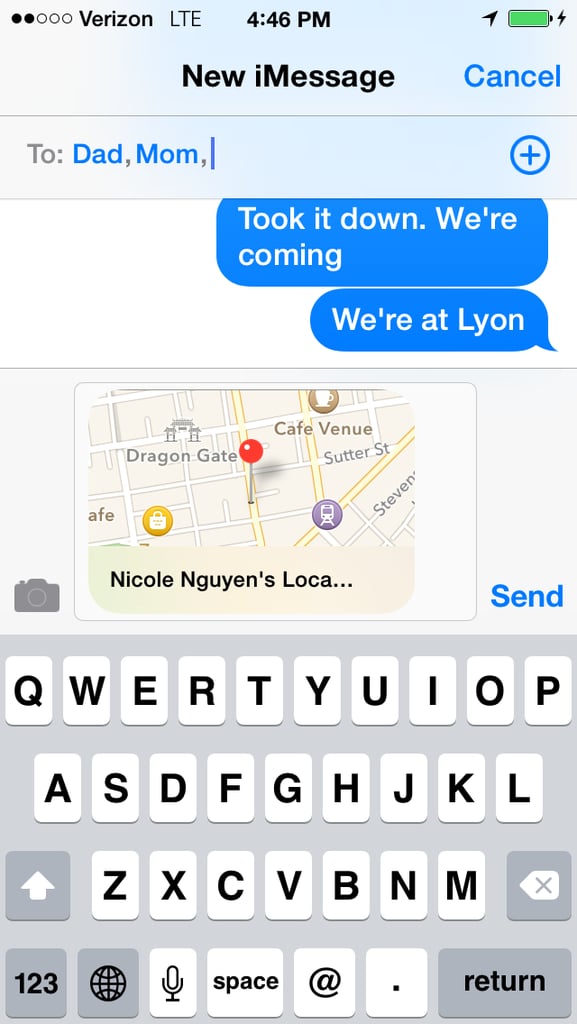 This is a neat little feature in both Apple Maps and Google Maps. In Apple Maps, you can send your current location by selecting the arrow in the bottom left, then tapping the share button on the bottom right (looks like a rectangle with an arrow coming out of it). Select "Message" and it'll text a map image to your contact.
In Google Maps, press down and hold anywhere on the map to drop a pin. Tap the pin and select "Share" on the right, then Message. You can also tap "copy to clipboard" and paste that unique URL link into a text.
Photo: Nicole Nguyen
Block an annoying texter.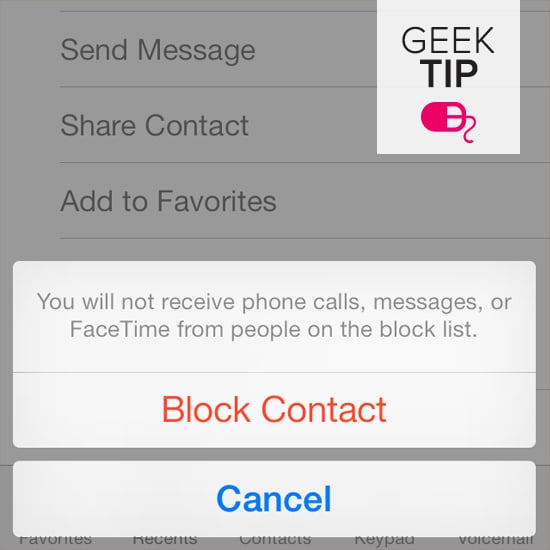 If a salesperson, frenemy, or a random Craigslist patron keeps texting you, block them. Follow these instructions [3] on adding a contact to a blocked list in iOS 7.
Photo: Nicole Nguyen
Fix iMessage when it's not working.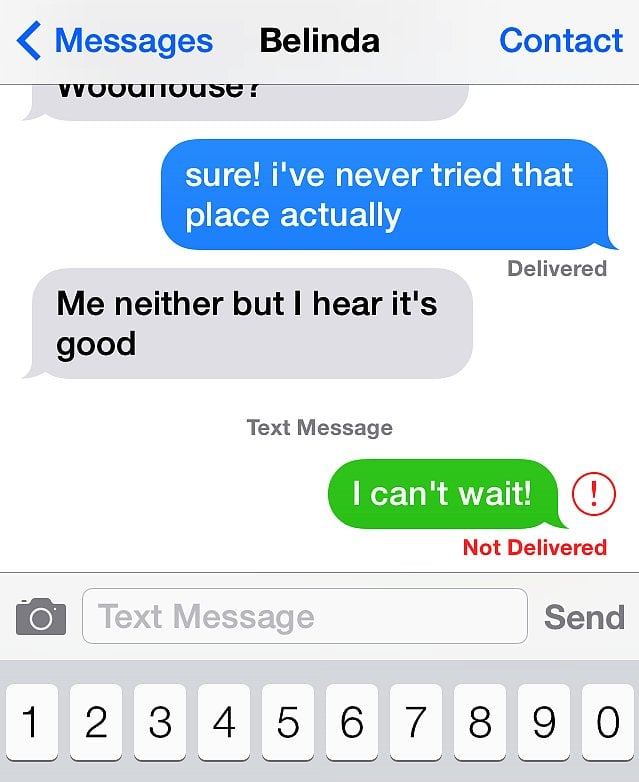 Is iMessage working? Or is he just not that into you? Restore iMessage back to its former glory [4] in iOS 9.
Photo: Nicole Nguyen
Delete a Text Message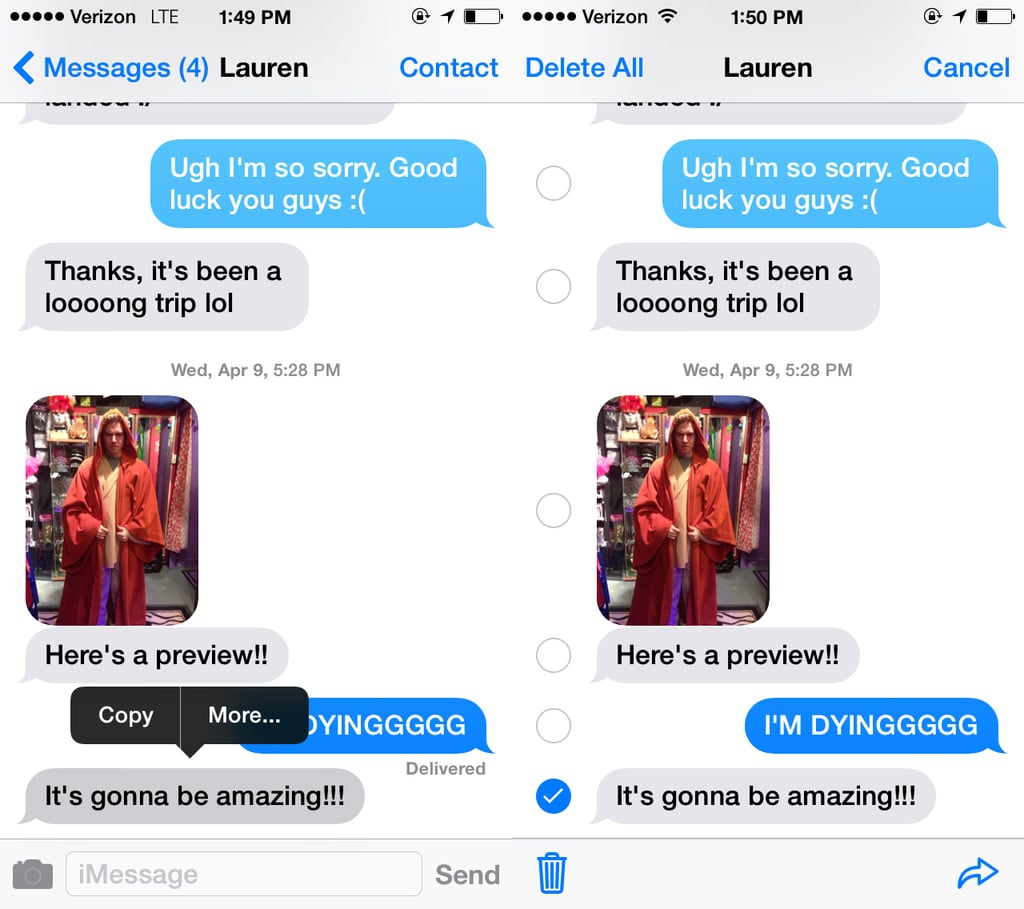 In a text message thread, press and hold your thumb on an individual text. A black menu bubble will pop up. Press "More..." and you'll then be able to select one or more texts. Tap the trash can at the bottom left when you're ready to delete.
Photo: Nicole Nguyen
Get Emojis on Your Phone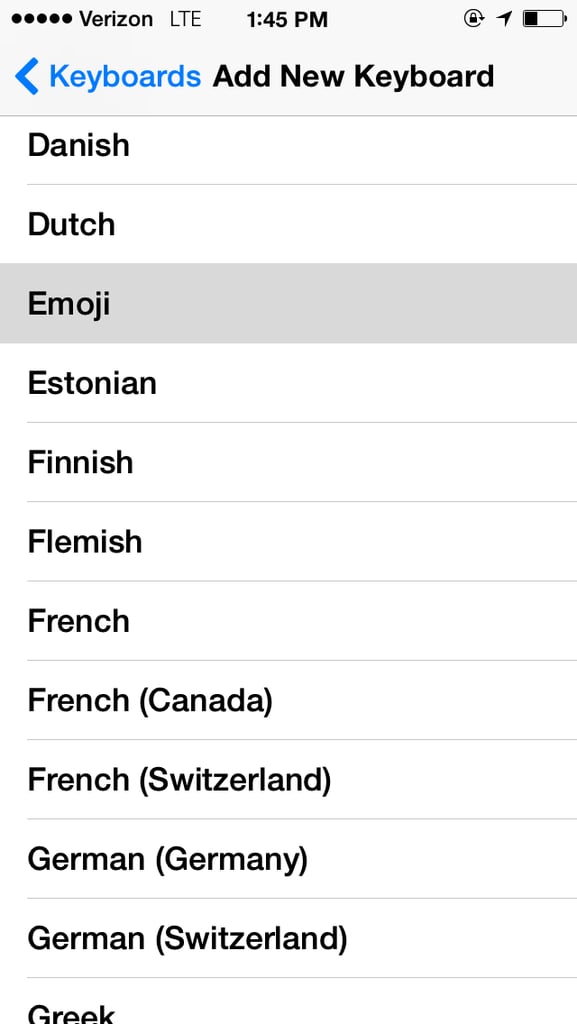 Open the Settings app, and then select General. Scroll down to Keyboard, and tap where it says Keyboards. Then Add New Keyboard and select Emoji.
Now when you're sending an email or texting, tap the little world icon on the bottom left of your keyboard (left of the spacebar) to access emoji icons. Voilà! Now, try your hand at these unexpected uses for emojis [5].
Photo: Nicole Nguyen
How to tell if you're using iMessage.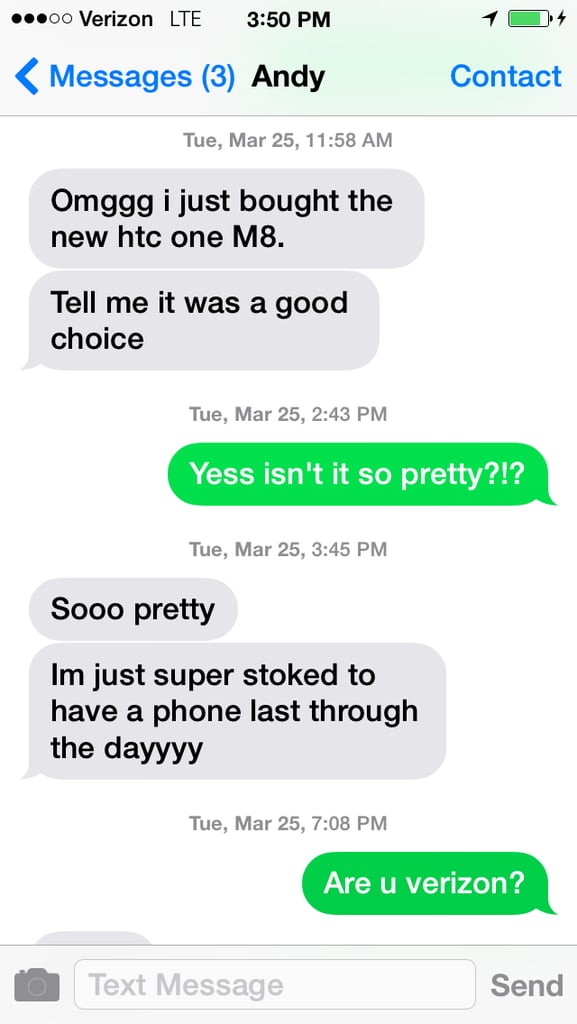 iMessage is exclusive to iPhone users. It's great because you won't use up your texts (if your plan has limited texts) since it uses Internet instead of your carrier network, you can group chat, you can tell when the message has been delivered, and you can send multimedia like video, images, and GIFs easily.
It's helpful to know when you're not using iMessage, so you can keep a close eye on your SMS limits. In a thread, if you see green bubbles, that means you are not using iMessage and texting someone who has disabled iMessages or uses an Android or Windows Phone device.
Photo: Nicole Nguyen
Force to send as an SMS message.
If iMessage is down, a red exclamation point will appear. Tap that exclamation point and select "Send as Text Message."
Photo: Nicole Nguyen
Use accents.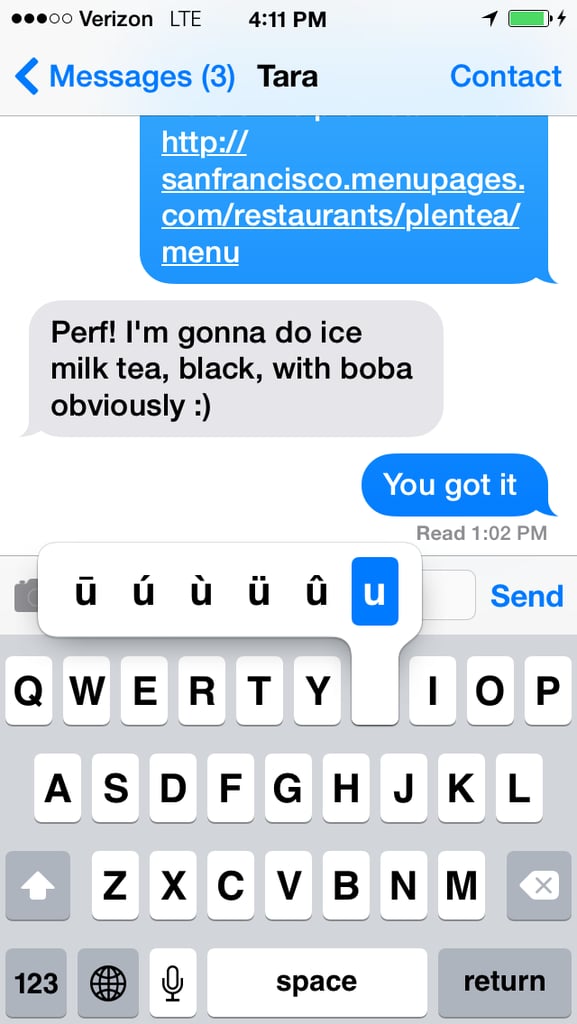 If you're feeling fancy, you can press and hold each letter to reveal every accent available to that letter!
Photo: Nicole Nguyen
See when each text was sent.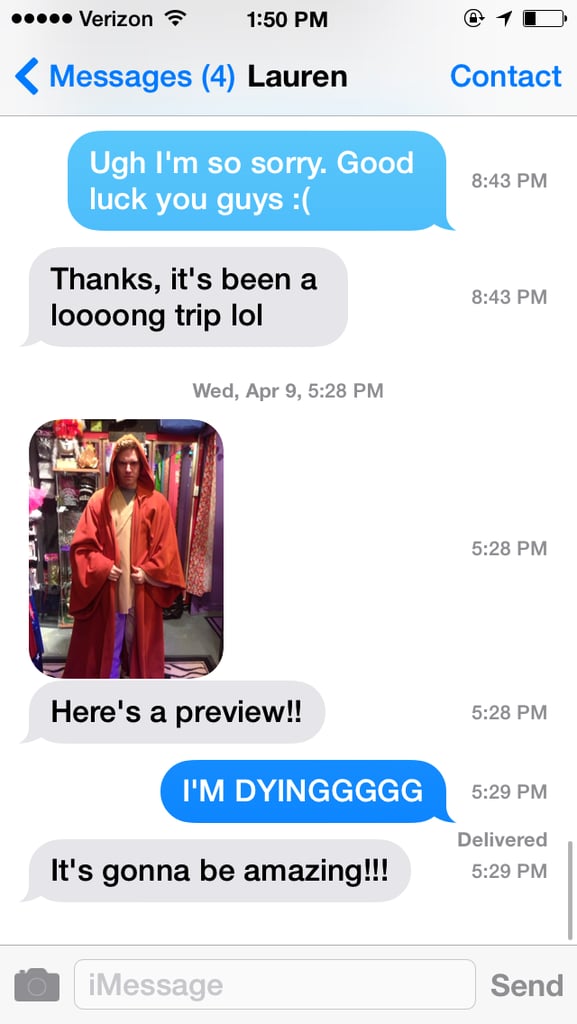 In a text message thread, swipe your finger to the left — anywhere on the screen — to see timestamps for each text on the right.
Photo: Nicole Nguyen
Set up keyboard shortcuts.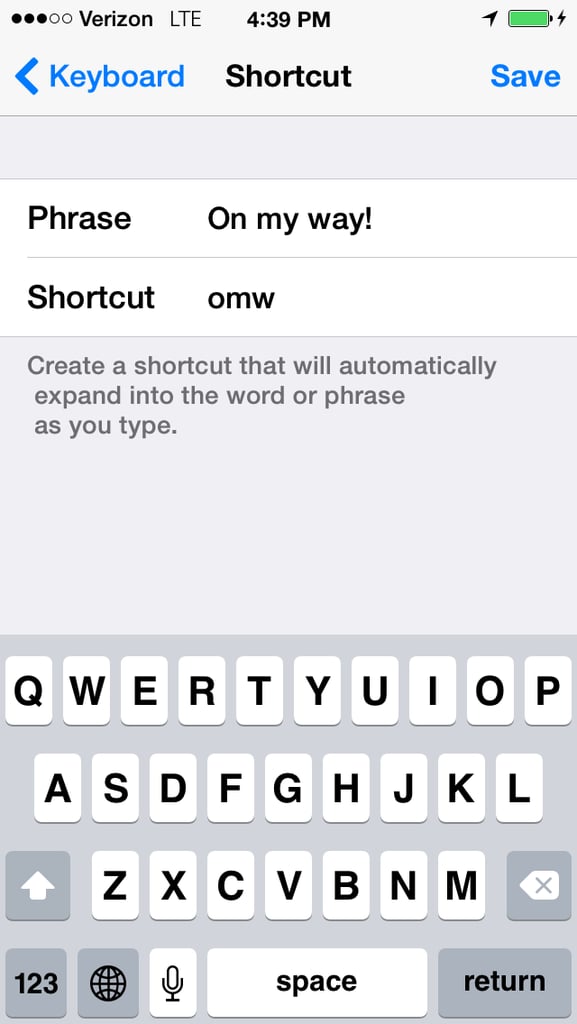 Keyboard shortcuts are awesome for phrases you text all the time like, "On my way" or "I'm late."
Set them up in the Settings app, then tap on Keyboard. Scroll to the bottom and tap Add New Shortcut to set up your own. Now every time you type "omw" (for example) it will automatically correct to, "On my way!"
Photo: Nicole Nguyen