TheDatable Facebook Dating Service
TheDatable: Your Ultimate Wingman App
Single and wishing you could meet someone through friends — rather than, say, at a late-night pizza place? Enter TheDatable, a service that helps you create a network of eligible singles through Facebook. The basic premise of the this online dating option is that since you're meeting through shared connections, you're more likely to have things in common with each match. Even better? There's a much lower chance of fake or embellished profiles, because you can turn to mutual friends as a reference.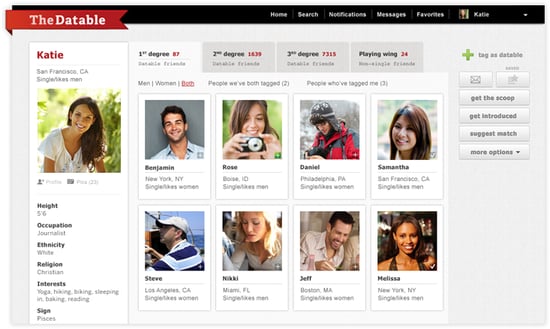 After creating a profile through Facebook, you can adjust the privacy settings to limit its visibility. And don't worry — none of your dating activity will be shared on Facebook. Then, once you've signed up, you can browse through your friends list to tag eligible friends, and those friends will be invited to share their eligible friends. From there, it's just one big snowball effect.
To put things in perspective, if you tag 50 datable people and they each tag 50 too, then you'd have access to 2,500 eligible singles within two degrees of separation. Plus, you can tap your taken friends as a resource too; if you tag them as Wings, then they'll be able to tag their single friends and introduce them to one another (and you).
What do you think? Would you be interested in using TheDatable service?