Thwipster Daily Deals Site
Geeks Get a Dedicated Deals Site in Thwipster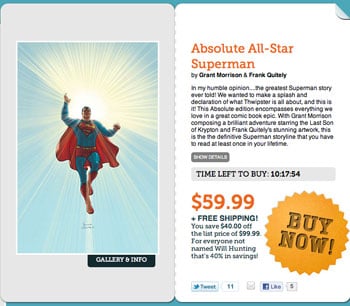 I love Woot.com for its super daily savings, but it doesn't always provide for my specific tastes. Enter Thwipster, a site that offers an awesomely geeky daily and weekly deal on stuff like comic books, pop culture goodies, and more, aiming to totally satisfy your inner shopping nerd.
On sale right now is the Absolute All-Star Superman comic for $59.99, while the weekly deal features book one of The Walking Dead in hardback for $18.99. All the deals are timed. Sales begin at 12 a.m. (EDT) and run until 11:59 p.m. (EDT) the same day, so you'll need (and want) to visit the site often to make sure you get in on the best bargains. I've got my credit card out already.
Do you have an interesting website you want to share? Join the Website of the Day group, and blog it for a chance to be featured on GeekSugar.