Tiffany & Co. Engagement Ring App
Tiffany & Co. Makes Ring Shopping Easy With New App
Shopping for engagement rings can be both an exciting and stressful time in a couple's life. Dropping a wad of cash equal to two months' salary on a ring isn't exactly an ideal situation in this economy, and if you're like me, you have a bit of salesman phobia. I just don't like dealing with pushy sales and the guilt of leaving a store without an item in hand! One way to skirt the in-store shopping experience is browsing engagement rings online. If you can do it with a dress, why not a ring?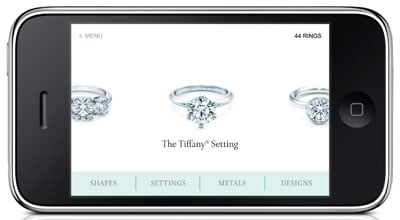 Helping you out in this department is Tiffany & Co., which has released its own iPhone app to help you find your perfect engagement ring, without ever stepping foot in the door. Find out how it works after the break.
With the free Engagement Ring Finder, you can browse diamond cut, shape, size, design, and metals, and the app even comes with a cool little tool that helps you find your perfect ring size. Check out your selections in "actual size," and then email them off to the groom-to-be so he knows what to look for. Even post your faves to Facebook and Twitter to show off your design skills. When you're done looking, you can make an appointment to see the ring up close and buy in-store if you've found "the one." Minimal salesman contact, minimal phobia freak-outs, maximum payoff.