Tips For DIY'ing Your Wedding Invites From Abby Larson of Style Me Pretty
Tips For Creating Your Wedding Save the Dates and Invites Online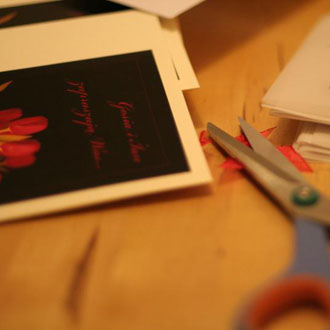 Getting married is an exciting adventure — you've got the ring, set the date, and now it's time to send out your save the dates! Brides on a budget need not worry about spending hundreds on professionally made save the dates and invitations — you can totally do it yourself with the help of a computer, a great printer, and some creativity. I asked invite guru and wedding blogger Abby Larson of the fabulous Style Me Pretty to weigh in and share her knowledge on DIY'ing your paper wedding goods, and what you'll need to get started.


If a bride wants to design her own save the dates and invites, where should she begin? Are there any DIY websites you can recommend to help? Designing your own invitations is a big task but one that can be tons of fun. Plus, it's a great way to show your personality and get really creative. If you are all about the printing element, but not-so-sure about the design part of it, check out the pre-made templates on Etsy. For $15-50 designers will sell you their ready-made, digital template and you can print them on your own home printer. It's genius. If you want to really get your hands dirty and design your invitations from soup to nuts, definitely spend some time checking out other invitation brands and figure out what style you most gravitate to. After you decide that, start sourcing out typefaces, artwork and paper. You can buy really great typefaces online on sites like MyFonts, find gorgeous

vector

art and illustrations online on istockphoto, and you can even buy your paper online on sites like Paper Source. Just make sure to really do your homework and create a design that reflects you as a couple and the wedding that you will be building. After all, your invitation sets the tone for the entire affair!
See what else Abby has to say about paper, printers, and whether online invites are kosher in the digital age after the jump.


Is there a printer out there that's great to use for at-home printing jobs? I have been totally loyal to my Epson R1800 for years. However I do know that there are a ton of great options in printers out there right now. The main thing that I look for in a home printer is that it has the ability to print on heavy card stock, usually 80lb - 120lb and that it can feed envelopes. Sometimes a trial is necessary, so don't be afraid to take the printer home and give it a whirl.
What kind of paper should a DIY bride use for printing? It's easier than ever to print your own invitations because paper stock is becoming more and more accessible. You want your invitations to be at least 80lb which is a weight that you can find at places like Paper Source. 80lb is also a weight that will usually go through most ink jet printers. If you want to add an element of dimension, you can print one sheet, then layer it on to another. You can even try adding different colored back cards for a more casual look. If you want to get that "letterpress" look while still DIY-ing your invites, go for 100 percent cotton paper or a style with a bit of texture.
How do you feel about online invites for a wedding? Although I am all for bucking tradition (and often encourage brides to really think outside the wedding box), paper wedding invitations are non-negotiable for me. A wedding, large or small, luxurious or casual, is such a special moment. A moment that deserves a proper invitation printed on pretty paper and designed to capture the spirit of the day. Whether your invitations are full of color or they are the traditional black and ecru variety, they should always, always, always be printed and snail mailed.
Any advice for couples that can't decide on an invite style? There are so many ways to define your wedding invitation style. First and foremost, think about the wedding in its entirety. Do you see your self having a casual, intimate affair? Do you think that your wedding day will be traditional? A bit modern? Or perhaps more eclectic? Your wedding invitations set the tone for your entire wedding. They are the first hint that your guests will get as to what kind of evening they experience. So your wedding invitation style should reflect the overall style of your wedding. If you still can't decide, head to your nearest stationery store and spend some time looking through the invitation samples. Chances are, you'll gravitate to a particular style which will help you to define your own design.
Can newlyweds send digital thank you cards, or is sending a paper thank-you still a non-negotiable tradition? A paper thank-you card is an absolute must. It is and will always be the only way to properly thank someone for sharing their time with you or for sending something special your way. Although there are some awesome options for digital stationery (my favorite being IOMOI), it should only be used for corresponding with friends or perhaps inviting guests to a small get-together. For something as personal as a thank-you note, paper is a must. And the thicker paper, the better.
There's lots more wedding coverage to come, so stay tuned!
Source: Flickr user placid casual