While it seems everyone and their mother have transferred their smartphone affections to the iPhone, there are many of us still rocking the BlackBerry. I don't claim to be a BlackBerry expert, but I have come across a few tips and tricks that will make any user's life easier and more entertaining. Here's to geeking out!
Change the Color of Your Pearl!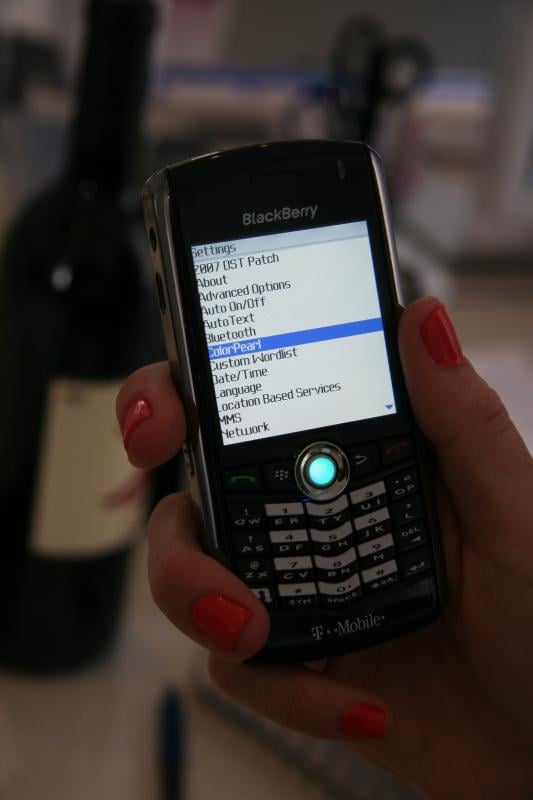 If you have a BlackBerry Pearl you can easily change the color of the pearl with a simple download.
Just download ColorPearl [1], which allows you to change the color of the trackball on your BlackBerry Pearl. You can get it for free from Geek and Proud [2], which has a selection of great BlackBerry downloads and tips.
Avoid Sore Thumbs!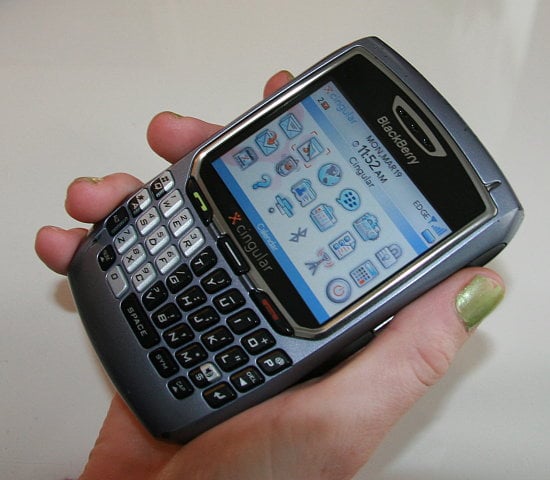 When I got my first BlackBerry 8700, it took awhile for my right thumb to adjust to the constant scrolling and clicking. After months of use, my poor thumb was taking the brunt of its constant attachment to the scroll wheel.
Check out my guide to avoiding sore fingers [3] - it was especially created for the worst CrackBerry addicts out there!
Get on the B-List!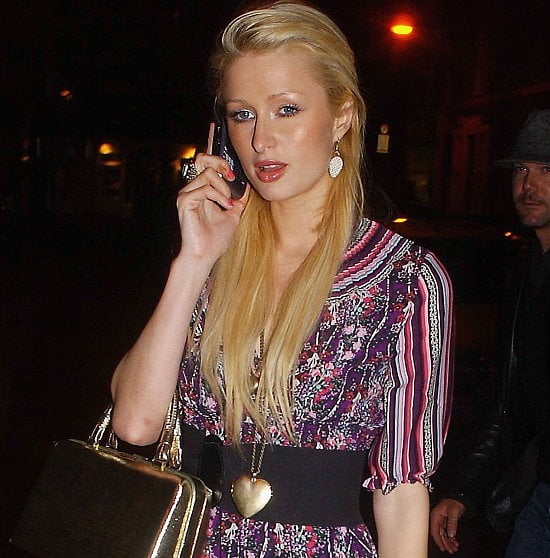 B-List is a downloadable guide [4] that will give you recommendations for the latest and greatest places to hit up when you are venturing out in a new city.
Celebs like Dita Von Teese, Trevor Nelson and Lisa Snowdon are all part of the B-list, according to our friends at Shiny Shiny. Sorry, this guide is exclusive to BlackBerry Pearl, 7130, and 8700 owners. Check out my past coverage to learn more [5] about it.
Read Emails Faster!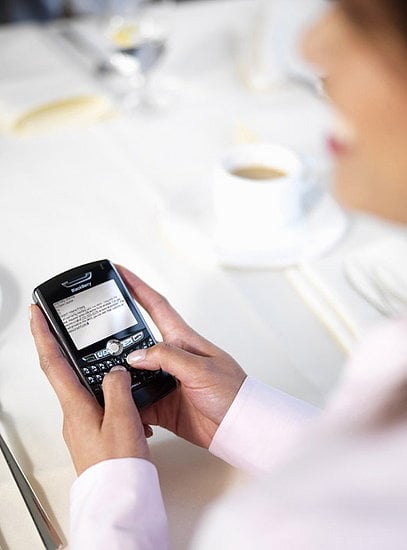 Here are a few tips from USA Today [6] that will have you (and me) blasting through our inboxes in no time!
When inside an email, click the N button to go to the 'next' message. This is much faster than exiting the email and then scrolling down to open the next one. You can also use this with photos as well.
If you want to read a previous email, click the P button when inside of a message and you'll immediately see the "previous" one.
And if you've scrolled all the way down a long email and want to go back to the top, just press the T button to move your cursor back to the "top" of the screen.
Source [7]
Make Your BlackBerry Look Like an iPhone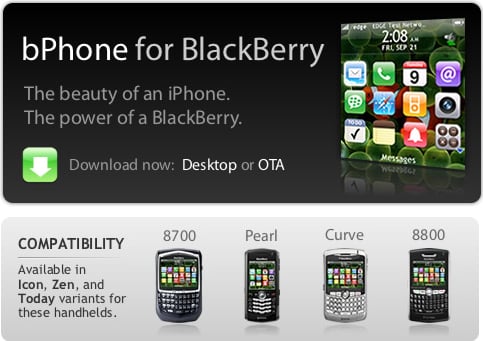 Wish you could change the user interface on your BlackBerry to look like the chic iPhones? There's a new download called the bPhone [8] that will do just this.
The theme is compatible with the 8700, Pearl, Curve and 8800. Important: Before you go on a downloading frenzy, you MUST have BlackBerry OS 4.2.1 or later installed or else you may render your BlackBerry unusable! To check what OS you have, go to Options -> About on your phone.
Take Notes While Talking on Your Phone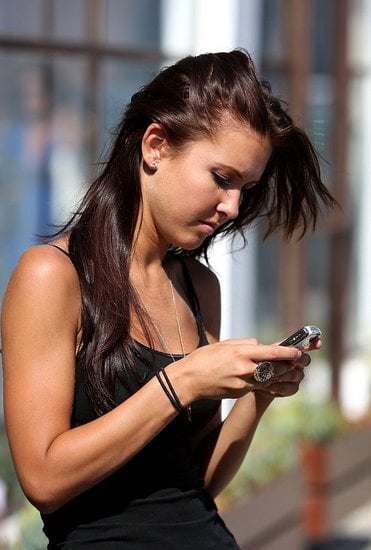 Ever wondered if you can take notes on your BlackBerry while talking to a friend without hanging up on them? You can! Here's how:
While you are on the phone, click the trackwheel.
Navigate to the notes icon.
Open notes and start typing your text.
What's great is that the notes will stay attached to the phone number in the log.
You can also attach them and forward them to a friend.
Download Google Talk on Your Blackberry!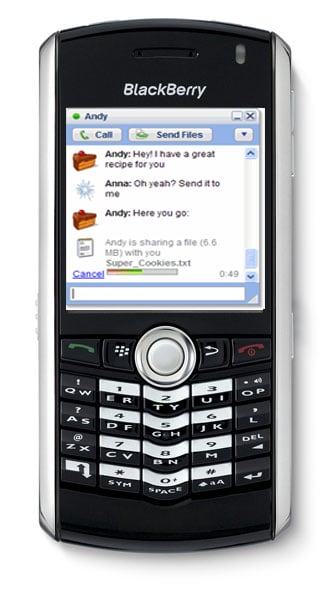 Now you can keep in touch with your friends around the clock. Google Talk [9] runs on all 7100, 7200, 7500, 7700, and 8700 series BlackBerry devices running BlackBerry OS version 4.00 or higher. Learn more about it by checking out my past coverage [10].
Note: Unless you have a cell phone service provider from the United States or Canada, you unfortunately won't be able to download the Google Talk client on your Blackberry.
Save A Wet Phone With Rice!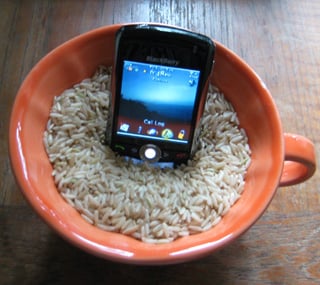 What do you do when you've got a hot first date and you drop your BlackBerry into the toilet? Turns out, it may be easier to fix than you'd think.
According to one reporter, you can leave a wet phone overnight in a bowl of uncooked rice and it just might be saved. I know, it sounds fishy, but he claims it really works [11]!
Download the Blackberry Video Converter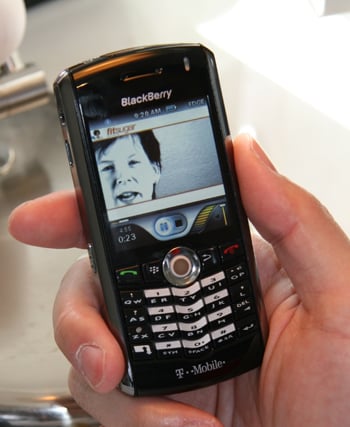 The Blackberry Video Converter [12] is a free utility that encodes video so you can play it on your RIM BlackBerry, meaning you can take your favorite Sugar videos [13] - or family favorites with you everywhere you go.
Use Three Way Calling!

Now you can have the gift of gab with three of your girlfriends at once. Just follow these steps to get your group call started asap!


While in your first call, hit the space bar to bring up your recent call list.
Choose a contact to dial from the address book. When you start dialing, the original caller is placed on hold.
After the second caller answers, swap back and forth between callers or join the two with you.


Geek Tip You can also use this feature when you receive an incoming call during an existing call. The caller you have in call waiting can join with the new caller. Love it love it love it!