Top 10 Geek Songs
A Geek Girl's Weekend Playlist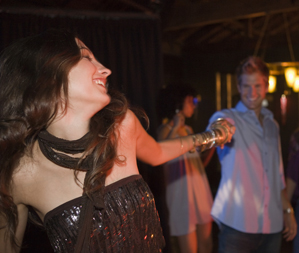 A good friend of mine is celebrating her birthday this week, and I've been tasked to make a geek-inspired playlist for the party. Since I already put together a list of the 10 geekiest songs on the radio, I've got a good head start. But besides recent hits from Lady Gaga, Beyonce, and Jay-Z, I know I'll have to reach a bit further into the archives for more geek-inspired songs. Take a listen to my finished mix when you read more.
Weezer — "In the Garage" Any song that makes reference to 12-sided die, the Dungeon Master's Guide, and Nightcrawler is destined to become a favorite amongst geeks. Add Weezer (aka the geek rock kings) to the mix, and it reaches geek anthem status.
Led Zeppelin — "Ramble On" Right; "getting the Led out" isn't exactly synonymous with geek culture, but Led Zeppelin were superfans of J.R.R. Tolkien. As far as I know, there aren't any other rockers lamenting over losing the girl in the "darkest depths of Mordor."
Daft Punk — "Technologic" You really can't label yourself a geek unless you've heard this 2005 hit from the French techno duo. It's a pounding tune that fires off tech verbs throughout the entire four minute and 45 second song.
Lady Gaga ft. Beyonce — "Telephone" Not only is this jam riddled with cell phone, text, and phone call references, but the video is also one big product placement for popular gadgets and geek culture.
Beyonce — "Videophone" Beyonce may be a good girl in real life, but her alternate persona, Sasha Fierce, talks about taking sexy videos on her man's phone in this tune from 2009. Maybe she can do a follow-up on her next album about the dangers of sexting.
Datarock — "Computer Camp Love" Remember when you went away to computer camp for the Summer and fell in love for the first time? And then the two of you got to know one another over the dim light of a C64? Well, that's this song.
Jay-Z — "D.O.A. (Death of Autotune)" Jay-Z made his feelings about the music industry's over-use of auto tune quite clear in this 2009 release. He wants it to die. Nuff said.
Figurine — "IMpossible Love" Love can certainly be hard in the digital world. And even with instant messaging, an LDR still sucks. For this guy, empty IMs translate to "I am alone."
Kraftwerk — "Computer Love" Way ahead of their time, German synthpop pioneers Kraftwerk use vocoders and computer speech software to sing about the rise of computers. So meta.
Weird Al — "White and Nerdy" Yes, Weird Al is known for his hilarious song parodies, but this one kinda tops them all. He's fluent in Java script as well as Klingon? Come on, you know you love it.