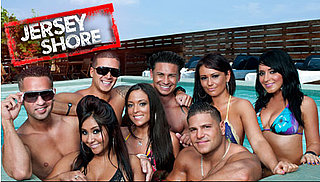 They're lovers, fighters, partiers, and coiners of ridiculous terms, but one thing the cast of Jersey Shore definitely isn't is high tech. At least not on the show. As with other MTV reality series like The Real World, the Jersey Shore house is equipped with only one house landline, and the cast members don't use any cell phones or computers during their stay. This has led to a number of made-for-TV moments. Check out my top five favorites from the Miami season after the break.
Definitely the most plot-centric use of technology on the show was when Snooki and JWOWW made the journey to an Internet cafe to write an anonymous letter to Sammi telling her that her sorta-boyfriend was kissing girls at the club. After all, they couldn't use their own handwriting, because then it would be totally obvious that they wrote it, right?
The guys collect scraps of paper with phone numbers whenever they go out. And then call every single number when their dates fall through.
JWOWW's boyfriend comes for a visit, rifles through her phone book, and finds a number he doesn't like. The low-tech version of digital spying!
Why does everyone hate Angelica? Because she spends all her time on the phone, like a surly teenager in the '80s.
Pauly's new crush visits him at work for some face time, which is very sweet, and needed since there's no texting (or sexting) going on!
What do you think of the low-tech antics on the show?