Top YouTube and Twitter Trends of 2010
Twitter and YouTube's Top 10 of 2010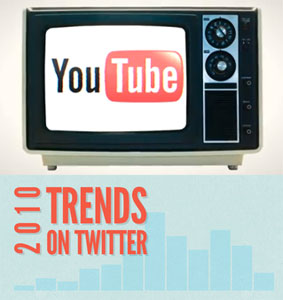 The year isn't quite over yet, but Twitter and YouTube are getting an early start on their 2010 wrap-up with a list of their top 10 trends and videos. I'm sure a few of the entries aren't surprising (Double Rainbow and the FIFA World Cup, anyone?), but you may be surprised at what didn't land at the top (heyoo, Justin Bieber). Check out the top 10 YouTube videos of 2010 below, then Twitter's top trends after the break.
To see Twitter's top trends, just keep reading.
Gulf oil spill
FIFA World Cup
Inception
Haiti earthquake
Vuvuzela
Apple iPad
Google Android
Justin Bieber
Harry Potter and the Deathly Hallows
Pulpo Paul
Think you can come up with a better or more entertaining Twitter trends and/or YouTube video list? Submit yours to our Best of 2010 community group — it could be featured on GeekSugar!