Touch Screen, MP3 Playing Tocky Alarm Clock
The Tocky Alarm Clock Rolls Off of Your Nightstand and Hides!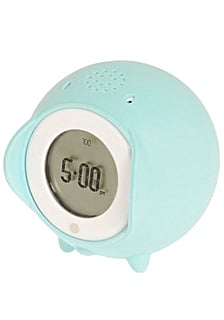 Remember the Clocky? It's the alarm clock that actually rolls off of your nightstand and onto the floor, making it nearly impossible to hit the snooze button. I love it in concept, but the two-wheeled design is a little clunky for my taste. Luckily, there's a new alarm clock that will roll you right out of your bed: meet Tocky, a high-tech alarm clock designed to roll onto the floor and hide until you find it to turn it off.
The plastic and rubber round alarm clock, available for $82 at ModCloth, also features a touch screen for setting the time and alarm, and the ability to record voices as well as upload MP3 files. It's tiny — measuring just over three inches round — so you can travel with it, too. Just be sure to check under your hotel bed before checkout in case the Tocky hides itself a little too well.