A Tough, Water-, Freeze-, and Shock-Proof Camera From Olympus
A Water-, Freeze-, and Shock-Proof Camera From Olympus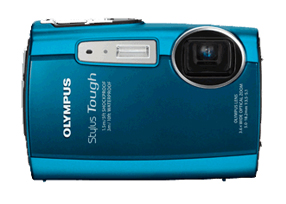 Check out this sleek new camera Olympus announced at last week's CES. The Stylus Tough-3000 comes stocked with 12MP and also records video in HD, but the most impressive thing about the Tough-3000 is its ability to take awesome photos and video just about anywhere, including underwater and in really cold temperatures. Thankfully, it's a lot better looking than last year's model, which seems a little clunky in comparison.
Other impressive tech specs include dual image stabilization and fast shutter speed to capture moving images. There's also a setting to automatically identify what you're shooting — a portrait, landscape, nighttime scene, etc. — and adjusts the camera's settings accordingly. There's 1GB of built-in storage, and an in-camera panorama feature, which will stitch together three photos to create a panoramic image.
Given my remarkable ability to drop (and sometimes drop then kick) my gadgets, I like its tough exterior. And it's perfect for active vacations on the slopes or in the ocean. The camera is expected to hit stores in February and retail for around $230.