Tour de France Live Coverage
How-to: Watch the Tour de France Live Online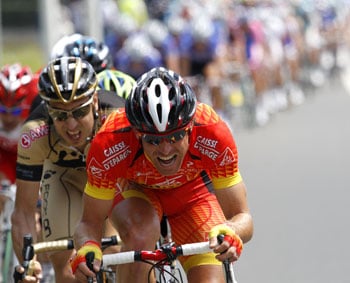 Dedicated sports geeks, listen up — you don't have to sit in front of your TV all day to catch live coverage of the Tour de France! Just like the World Cup, there are a few ways to get your cycling fix while at the office, over WiFi, or even while on the go. The first place you should head for updates is the official Tour de France website. Bringing you real-time updates on route locations, standings, and photos from the road, this is a great place to start when you can steal a moment away and sneak a peek when the boss isn't looking.
But that's not all — find out how you can watch the Tour de France live online (and on your iPhone!) after the break.
If you are at home and want to watch the action from your big screen, you can find a local station broadcasting the event on Versus's website (one of the event's official sponsors) by plugging in your ZIP code. Not in the States? Find a channel to surf to with this handy guide.
Got an iPhone? Then download the live on Google Maps! Using a special version of the My Tracks Android App, the team will broadcast their location, speed, heart rates, and power throughout the course.
If you're on a PC, Mac, or iPad and can spare the extra cash, register with the Versus Tour Tracker ($30) and get live streaming coverage from the road for the remainder of the Tour in Flash and HTML5 video. Good news is, you can catch up on streams later via on-demand if you miss the first broadcast, and watch from anywhere with a WiFi connection.