Translate Websites and Phrases With Promt
Geek Tip: Translate Websites and Phrases With Promt
There's no shortage of online translation tools and mobile apps, but I've yet to find one that translates large blocks of text accurately. Until now, that is. Promt, a free online translator and dictionary. The company manufactures desktop software for translating PDFs and larger documents, but this free web-based service is incredibly accurate and easy to use.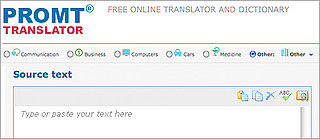 You can copy and paste large blocks of text to translate, or use the website translator for an entire site; just enter the site's URL and desired start and finish languages. You can even set categories for greater accuracy; try "Travel," "Cars," "Sports," and more.
There's also a mobile version of the site should you need to translate on-the-go; Promt currently supports English, Spanish, French, Portuguese, Russian, and Italian.