Translate Words in 30 Languages With an Android App
Find the Nearest Restroom in Any Language With This App!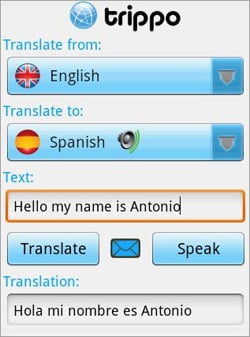 Planning on traveling abroad anytime soon? If you have an Android phone, try the Trippo Mondo Voice Translator, which translates words or phrases in more than 30 languages. Here's how it works: select the appropriate languages and type the word or phrase you'd like to translate into the app. It then translates the word or phrase, and will even say it for you in most supported languages.
After translation, you can also email or SMS it to yourself or a friend. Not only is this perfect for learning basic phrases and words before taking a trip, it could be a real lifesaver if you're desperate for the nearest restroom or restaurant, or just want to introduce yourself to a new, um, friend. ("Why hello, Antonio.")