Travel Itinerary Phone Apps
Plan Summer Itineraries With a Time Traveler
Ready for Summer travels is the recently released Yahoo! TimeTraveler, a free app that offers guided tours in 29 different cities, including London, New York, San Francisco, and Paris, among others. I tried out the app on cities I have lived in (Amsterdam, San Francisco, Los Angeles, New York City, and Dallas), so I feel like I have a firm idea of major landmarks every tourist should hit. The app itself is easy and intuitive to use; however, I see it more as a supplement to travel itineraries. It needs some major updates before I'd be willing to trust it to plan my itinerary entirely.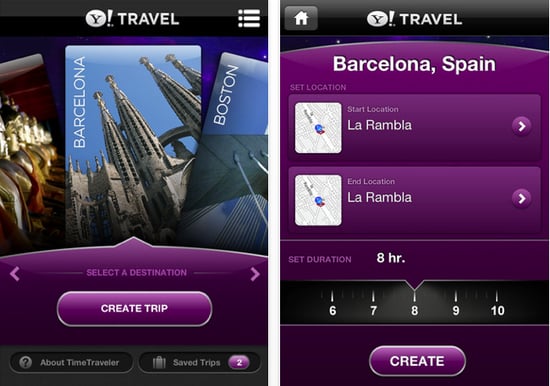 TimeTraveler Pros:
The app generates a list of attractions to see in a certain time frame. However, unwanted attractions can be removed with a swipe of the finger, and the app will generate a refreshed list of sights.
For each city, the app shows an interactive map highlighting the destinations on the itinerary (and in which order they will be visited). The map also pins nearby attractions and restaurants.
All the basic information for each attraction is right there in one place. The app pulls travel details, hours of operation, photos, and a brief description and history of each destination.
Read where the app missed the traveling mark.
TimeTraveler Cons:
While some cities on the app have great points of interest, others had completely randomly generated attractions. For instance, in San Francisco, half of the pulled destinations were museums that could not be covered in one day. Plus, the app doesn't mention iconic tourist spots like Chinatown and Fisherman's Wharf, which, as touristy as they may be, are worth a glance.
There is no way to search and add in certain sights to the itinerary. The "search" feature simply redirects you away from the app to yahoo.com's search engine.
The listed times it takes to tour each destination are not accurate. For instance, a trip to Alcatraz Island in San Francisco is at least half a day. However, the app says it only takes about one and a half hours. The app miscalculates the time to be spent at theme parks, too, like Disneyland. The app says visitors will probably only spend five hours when, realistically, most people spend an entire day — from sunup to sundown — waiting in lines and riding each ride.