Tripomatic Travel Itinerary Phone App
Tripomatic: One Simple Travel App, Hundreds of Sightseeing Opportunities
When planning a Summer vacation, downloading a worthy travel app is a lifesaver for fitting in the sights. Free iOS app Tripomatic helps draft an itinerary in one of hundreds of cities for stress-free travels. We spent some time with the app and discovered what makes Tripomatic stand out in the crowded world of travel apps; check out the pros and cons below.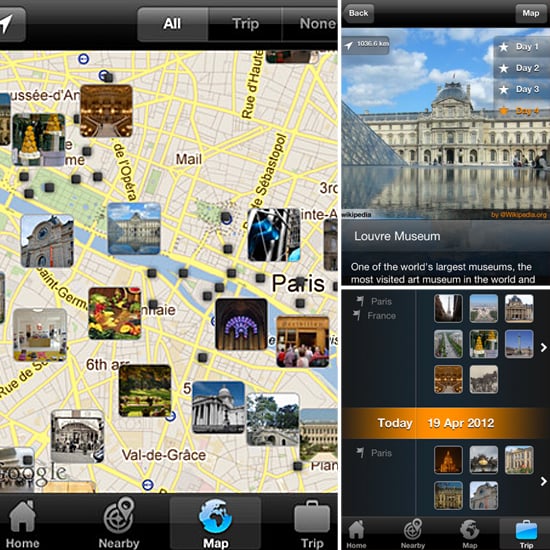 Tripomatic Pros:
It's easy to log in using a Facebook or Google account.
Graphics and helpful notes make navigating the app for the first time an effortless experience.
Planning an itinerary based on the city, number of days staying, and nearby attractions is quick and fun using the map's photo icons.
Each attraction has its own page, with a larger photo, attraction info, and, in many cases, the hours of operation.
When you star attraction items on the day you would like to see them, they instantly appear on the itinerary page.
Take a look at the Tripomatic features we weren't crazy about.
Tripomatic Cons:
Since it's a location- and map-based app, you must be connected to the Internet, which could mean problems when you're overseas or without a reliable WiFi connection.
Some of the locations don't list hours of operation, and none of the attractions have basic contact information like a phone number.
A few random attractions like movie theaters appear that deter from the true tourist attractions.
There are no ratings, so it's hard to gauge if the nearby attractions are worthy of your visit.
You cannot search and add specific attractions to the Tripomatic database. The closest thing you can do is suggest and submit a new attraction to the Tripomatic team.
Overall, Tripomatic is a fun and simple app to use. It's a worthy supplement to travel plans, especially if you find yourself with a few hours to kill in an unfamiliar city and want to check out nearby attractions.